Boat accident kills at least 20 in southern Nigeria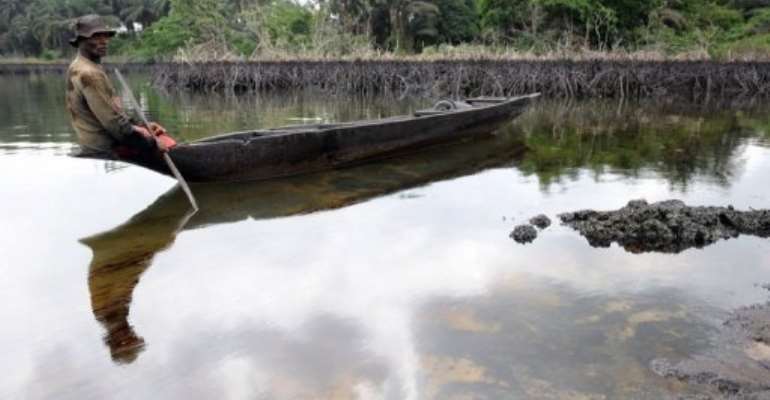 PORT HARCOURT, Nigeria (AFP) - An overloaded passenger boat capsized in southern Nigeria, killing at least 20 people, though several others were rescued, including a pregnant woman and a child, officials said Wednesday.
The wooden boat was travelling between an area called Eagle Island and Mgbuodohia of Rivers state in the Niger Delta, a vast swampy region in southern Nigeria, when it capsized on Tuesday night.
"NEMA rescue officials confirm that so far three people were rescued alive while 20 bodies recovered," said Yushau Shuaib, spokesman for the National Emergency Management Agency. "The boat was overloaded with passengers, some standing."
It was estimated that 40 or more people were aboard at the time of the accident.
A rescue official in the area, Umesi Emenike, said four people had been rescued alive. He said local boats do not prepare passenger manifests so the precise number of people who were aboard was not clear.
But those pulled out of the waters alive included "a child and a pregnant woman who delivered today," he said. The survivors were rescued Tuesday night, mainly by local volunteers.
The rescue operation involving dozens of workers, including about 20 from the local community, was still underway Wednesday, he said.
"There are lots of onlookers, curious onlookers, and some very emotional relatives," he told AFP by phone.
He said the search operation would be halted temporarily overnight due to the difficulty of operating in darkness.
The bodies recovered so far have been identified by their families and collected for burial.
Mgbuodohia community official Chima Amadi told AFP the boat was the only reliable means of transport to central Port Harcourt, an oil industry hub and the main city in the area, because of the bad condition of roads.
"More than 40 passengers were on the boat," he said. "It is quite painful and sad ... We have arranged for the community youths to assist in the rescuing of the victims."
Roads are notoriously bad in many parts of Nigeria, with infrastructure neglected despite the country's vast oil wealth.
Such boat accidents are not known to occur frequently in the area. Emenike said the last boat accident in the area was recorded about three years ago.
The Niger Delta region is made up of a maze of swamps, creeks and rivers and is the heart of Africa's largest oil industry.
Nigeria is Africa's most populous nation with some 160 million people.