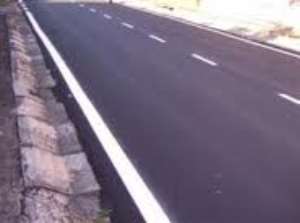 Abuom (B/A), Dec. 13, GNA – The Government has earmarked GHC29 million for the construction of the 8.5 kilometre Abuom-Naketey road in Asunafo South District of the Brong Ahafo Region.
Mr. Eric Opoku, Deputy Brong-Ahafo Regional Minister, disclosed on Monday at a durbar of chiefs and people of Abuom in the district at a sod cutting ceremony to commence the project.
The project will be executed by Kofi Job Construction Company, a Kumasi-based road construction company.
Mr. Opoku said the road on completion would facilitate the activities of the people in towns and villages around a huge mountain called "Bonsam Bepo" (Evil Mountain) and Abuom.
The absence of the road has compelled residents around Naketey and others to make their journeys to Goaso via Asumura and Akrodie, instead of a shorter road through Abuom, he said.
The Deputy Regional Minister noted that some travelers made their journey to Goaso through Western Region in view of the bad Abuom-Nanketey.
Mr Opoku said the Government was determined to provide more developmental projects in the country and urged the people to unite for the actualization of this plan.
He appealed to the chiefs and people to cooperate with the contractor to ensure quality work and the completion of the project on schedule.
He said the completion of the road would enable them to enjoy the services of at least two Metro Mass Transport (MMT) buses.
The Deputy Regional Minister also announced that the Government had agreed to the people's request to farm on a portion of the "Bonsam Mountain", which was burnt by bush-fire.
He catalogued a number of projects the Government had completed within its three years in office including the Ntotroso Junction-Amadu Nkwanta (popularly called 1000 acre), Sankore-Boako, Sankore township, Corporal Krom, Nobekor-Anwiam roads.
Mr. Opoku in reaction to a popular request, promised to construct a new classroom block for the local Junior High School (JHS) and would ensure the provision of mobile-phone coverage in the area.
Mr. Atta Bosompem, District Chief Executive, assured the people that he would operate an "open-door" administration to ensure the progress of the people and the District.
Mr. Kofi Job, the contractor, promised to complete the project ahead of the scheduled two-year period.
Nana Amoako Gyampah, chief of Abuom, commended the Deputy Regional Minister for his good works.
GNA