Omane Boamah predicts one-touch victory for Mills in 2012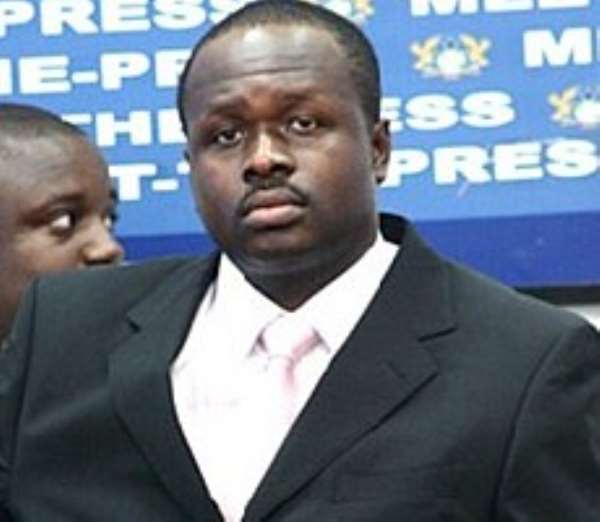 Dr Boamah
The Deputy Minister of Science and Environment Dr. Edward Omane Boamah is predicting a one touch-victory for the ruling National Democratic Congress.
Speaking to party supporters at the Kwame Nkrumah University of Science and Technology from where Luv FM's Elton John Brobby reported, the minister is convinced the opposition New Patriotic Party would not garner 46 per cent of the votes in the election.
Dr. Omane Boamah, among other things cited the depleting fortunes of the NPP, especially in the Eastern Region where the party flagbearer Nana Akufo-Addo hails from, to support his position.
He said in 2004, then President Kufuor beat candidate Mills by over 200,000 votes but the situation in 2008 was different. According to him, Nana Akufo-Addo could only garner a little over 130,000 votes showing a gaping depletion in votes for the NPP.
The minister also accused the NPP of massaging the figures especially in their stronghold of Ashanti Region which he claimed recorded over 100 per cent of voter turnout.
With the NDC in power, the Minister has not doubts the ruling NDC will beat the NPP hands down.
"I do not see the NPP even go beyond a 46 per cent in the 2012 elections," he said.
Several polls have been conducted ahead of the 2012 elections with a research group, Synovate publishing two of its research findings, all of which predicted victories for the opposition party.
But the Minister said those polls could only be a sham.
He revered however an opinion poll currently running on the SMS page of Myjoyonline.com in which President John Mills has taken a lead.
Out of a total of 12,920 votes cast as of December 13, 2011, the NPP's Nana Akufo-Addo has garnered 5,726 representing 44 per cent of the votes with President John Mills polling 6,438, representing 50 per cent of the votes cast.
Dr. Omane Boamah citing largely unscientific poll, chided Joy FM and Myjoyonline.com for not making any reference whatsoever to the poll but rather depended on a discredited poll by Synovate.
Per his permutations and the poll on Myjoyonline.com, Dr, Omane Boamah is convinced beyond every shadow of doubt that President John Mills would win the next year's elections without sweat.
Play the attached audio for excerpts of Brobbey's report and Dr. Boamah's comments.