Joyce Aryee calls for review the education system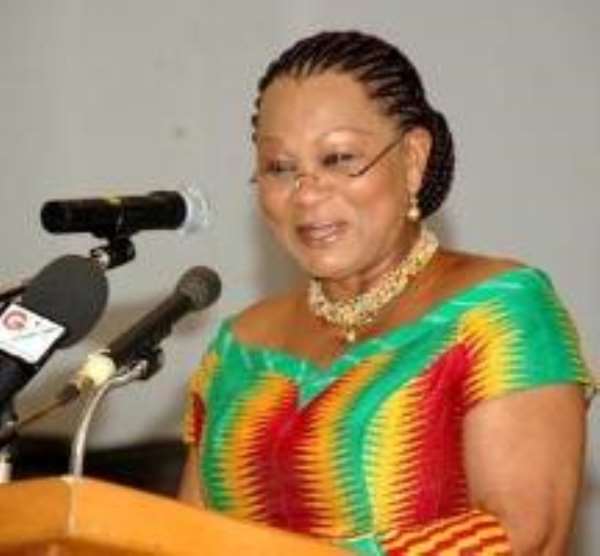 Aburi, Dec. 13, GNA - Dr Joyce Rosaline Aryee, the Executive Director of Salt and Light Ministries, has called for the review of the current educational and training systems to the one that would be responsive to the need of school leavers, industry and the community.
She said that was the only way to restructure the Ghanaian economy and move it from the current labour-intensive to capital and knowledge intensive where technical and vocational education would take the centre stage.
Dr Aryee therefore called for a clear mission and vision in articulating the role of Science, Technical, Vocational, Education (STVE), within the national education and training system as the engine for rapid economic development.
The former Chief Executive Officer of the Ghana Chamber of Mines made the call at the speech and prize giving day and 20th anniversary celebration of Aburi Presbyterian Senior High and Technical School at Aburi.
Dr Aryee said secondary, technical and vocational education system played a crucial role in the social – economic development of a nation, due to its dynamic nature.
She said it was unfortunate that technical and vocational education had been relegated to the background due to prejudice against it and was rather associated with those who were less academically inclined.
Dr Aryee said the greatest gaps in human resource development were in vocational education and technical skills.
She said there were six tests of success of STVE, which needed to be addressed and they are the employability of the graduates, personal development, opportunities for further education and career development, public acceptance and image.
Using Singapore as a case study, she said their system of vocational, technical education transformed the country from a developing country into a world-class model country.
Dr Aryee said without proper attention paid to STVE, all efforts by the government would not yield any positive results in transforming the country into middle level.
The Headmaster of the school, Reverend Samuel Adjei Munhuhitum, said the school's academic performance over the years had been encouraging, especially the 2011 West African Senior School Certificate Examination.
He said out of the 235 candidates who wrote the examination, 211 qualified for the university and other tertiary institutions in six subjects, 13 had five passes and none of the candidates failed.
The Deputy Eastern Regional Minister, Mr Ebenezer Terlabi, said the government was committed to providing quality education to all institutions of learning in order to produce the needed skills required to propel the development of the country to the highest level.
He said the government was focusing on access to participation in education and training at all levels.
The Chairman of Board of Governors of the school, Rev. Dr Samuel Ayete-Nyampong, commended the founding fathers of the school.
Prizes were presented to deserving students, past students, individuals, and organizations who had contributed to the growth of the school since its establishment.
GNA