Landmines new scourge of South Sudan's Unity state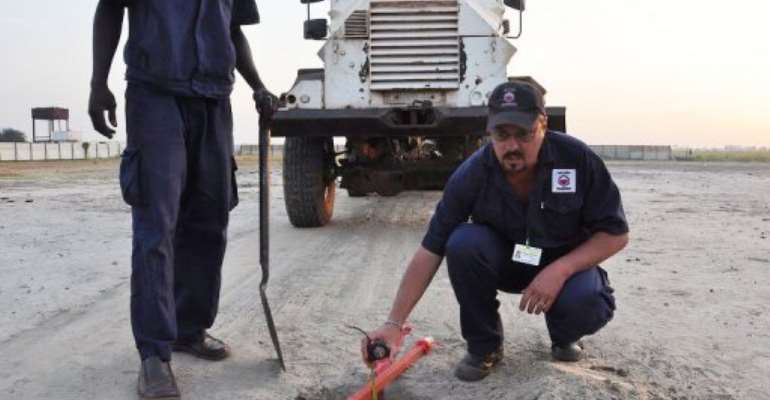 BENTIU, South Sudan (AFP) - In a ward full of amputees, six-year-old Gatwech Kornyut is the youngest victim of newly-laid landmines that are turning South Sudan's Unity state into a no-go zone, as the blasts or fear of them cripple residents and trade.
Cradling the little boy smiling brightly and fiddling with car-print pyjamas rolled up above the stump of his left leg, Gatwech's mother Mary Nagak says she brought him from the north when Sudan split in July.
"He was born in Khartoum but with independence, we decided to come to South Sudan. We were very happy to come here and we weren't scared of anything," she says.
In September, Gatwech's leg was ripped off, and his grandmother and three others killed, when the bus they were travelling in hit an anti-tank mine on a road in Mayom county, Unity's rebel heartland.
Rebel groups suspected of laying the mines have become increasingly active in northern, oil-rich states since the start of the year, when South Sudan voted overwhelmingly for independence in a referendum.
In another bed, 19 year-old soldier Tuter Chiok says he recently lost his right leg on the same road.
The Sudan People's Liberation Army (SPLA) fought a decades long war with the north that ended with a 2005 peace deal, which paved the way for independence in July. Chiok only joined the army last year to fight the new enemy within.
"I was fighting because of the local rebel militia groups in that town. We were trying to help the locals chase them away and then came across a land mine and got hit," while travelling in a police van, he says.
A rebel attack on Mayom, the town Chiok is referring to, killed around 80 people in October.
He says that since the accident, he has not received any help from the SPLA, his only hope for a desk job. With no education, his future now looks bleak in a country where most people rely on subsistence farming to make a living.
When the south seceded four months ago it took with it 75 percent of Sudan's oil production, although it is locked in a bitter row with the north over how to share revenues.
Southern officials accuse the Sudanese government of trying to start an "oil war" by funding rebels in Unity and Upper Nile, the country's two producing northern border states, charges repeatedly denied by Khartoum.
Its oil wealth never trickled down to differentiate Unity's landscape from the other neglected dustbowls peppered with thatched mud huts in the resource-rich south.
"The north has interests in the south, in the resources," and has no intention of letting it go now, says SPLA acting commander Mangar Buong.
He accuses Sudan of attacking the SPLA's 4th Division in Unity state, "under the cover of rebel militia groups."
Elizabeth Tindil, an assistant in Bentiu hospital's operating theatre, is sad that her new nation is beset by growing pains after such a long-awaited birth.
"There (was) no problem long ago. The problem comes just now when we take our freedom," she says.
Mines have not only filled the hospital with "broken people" for months, but discourage Unity's residents from stepping too far from home.
"We are not moving around... We never go with the car sometimes and on foot we walk on the sides," Tindil says.
The UN Mine Action and Coordination Centre (UNMACC) has ramped up efforts in Unity to unblock aid and trade routes.
"Before the start of the year, the UN really wasn't concerned about Unity state," said UNMACC operations specialist Chris Fielding.
"Now, the re-mining has shut down most of the state... and we're chasing our tails," he says.
In Bentiu's market, empty of fruits and vegetables, sorghum-seller Clement John Kandung says food prices have tripled since conflict broke out in June between the Sudanese army and rebels over the border in South Kordofan.
"Prices have gone up because the border has been closed and there are no trips between north and south. Before we were being supplied by the north," he says.
Kandung's business is slowing down as mines and illegal taxation on vehicles have stopped people smuggling food from the north, while buyers struggle to pay for the staple grain of the region.
"Some of the people are now staying in their places, begging their relatives to assist them as they can't afford to buy," he says.
Holding a tin of powdered milk for the hospital that used to cost around $7 and now costs $34, Tindil is still hopeful that her broken state will be fixed soon.
"The life will go better, two years, three years... we will try our best to do everything and bring some food from Kenya and Uganda."