Ghana pledges to support African Court on Human and Peoples' Rights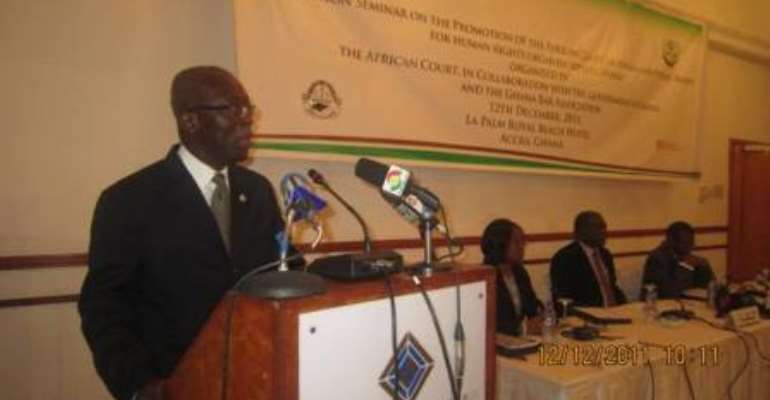 Accra, Dec. 12, GNA – Ghana on Monday pledged her support to the African Court on Human and Peoples' Rights (AfCHPR) to realise its objectives firmly rooted in the promotion, protection and respect for the fundamental human rights of groups and individuals
"We cannot achieve sustainable national development when the environment is not convenient for the people to achieve their legitimate aspirations, where people feel discriminated against or marginalised, the peace and stability of a nation would be jeopardised", Mr Ebo Barton Oduro, Deputy Minister of Justice and Attorney General, said in Accra.
The Deputy Attorney General made the pledge at the opening session of a day's Sensitsation Seminar on the promotion of the African Court on Human and Peoples' Rights (AfCHPR) for Human Rights Organisations.
Mr Oduro advised Ghanaians not to jeopardise the significant gains of democracy the country had worked hard to achieve saying, 'We must continue working for its advancement and consolidation'.
He said the Court had played and continued to play a critical role in the protection of individual liberties explaining that the Commission on Human Rights and Administrative Justice (CHRAJ) had over the years been keeping within its constitutional mandate and investigated several complaints on human rights violations and freedoms, abuse of power and unfair treatment of individuals by public officials.
The seminar was organised by the African Court in collaboration with the Government of Ghana and Ghana Bar Association (GBA) on the theme: "The African Court on Human and People's Rights; Your New Partner in Fostering Human Rights Protection in Africa".
It is aimed at promoting and protecting human rights by raising public awareness about the Court and in addition, sensitise would-be applicants on how to access the court, the procedures and also to encourage seizure of the court for advisory opinions.
Over 90 participants drawn from a cross-section of government services, human rights organisations, Commission on Human Rights and Administrative Justice, GBA, the courts, academic institutions and the media, attended the seminar.
They were taken through topics such as overview of the African Human Rights, role of the court in contentious matters, the general presentation of the African Court and the role of human rights institutions and organisations in the promotion of the Court.
Mr Justice Gerard Niyungeko, President of African Court said the court played a dual role; first it has a contentious jurisdiction which allows it to resolve disputes regarding the interpretation and application of the African Charter on Human and Peoples' Rights and any other international instrument relation to human rights.
It has an advisory jurisdiction, which allows it to issue an advisory opinion on any matter relating to human rights.
Mr Justice Niyungeko said due to the relative novelty of the Court, it was not well known by the African people and various other entities entitled to bring contentious matters and sought advisory opinion and urged Member Countries to utilise it fully.
Mr Frank Beechem, President of GBA said the association was committed to continuous legal education and appealed to AfCHPR to provide relevant information.
He said the association would assist its clients to ventilate their human and people's rights expeditiously and at a minimum cost.
GNA