Government to establish three sheanut factories in the Northern regions-Veep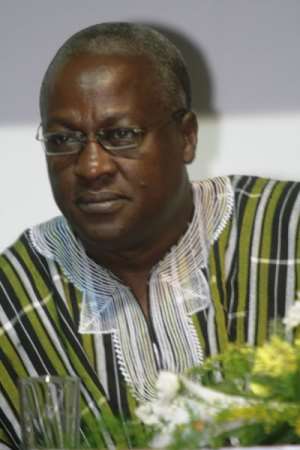 Buipe, Dec 12, GNA- Vice President John Dramani Mahama has announced that the Government would by 2012 establish three shea nut processing factories in the three Northern Regions to make use of the abundant raw material in those areas.
"Already the construction of the one in the Northern Region is located in Buipe here and will be completed by the 7th of February next year, while the next two will also be located in vantage areas of the Upper East and Upper West Regions."
Vice President Mahama announced this when he inspected the Buipe Sheanut Processing factory at Buipe in the Northern Region as part of his three-day official visit to the Northern Region.
Apart from inspecting the processing factory project, Vice President Mahama also inaugurated an $ 8.5 million electricity substation at Buipe,inaugurated a sheanut steering Committee in Tamale and attended the congregations of both the Tamale College of Education and the Tamale Campus of the University for Development Studies.
The Vice President said the Government had signed an agreement with a Brazilian Company that would buy all the produce of the sheanut factories and urged the beneficiary communities to take advantage of the opportunity to better their lot.
Vice President Mahama explained that the establishment of the factories would not only create jobs for the youth but would achieve the purpose for the creation of the Savannah Accelerated Development Authority to bridge the yawning development gap between the North and the South.
He commended the Produce Buying Company of the Ghana Cocoa Board for taking up the initiative and pledged government's commitment to harness the potential for the benefit of the masses.
The Vice President appealed to the people of Buipe and its environs to settle all chieftaincy disputes to ensure perpetual peace that would encourage investors and other partners to establish their businesses in the area.
Mr William Mensah, Deputy Chief Executive Officer of COCOBOD in-charge of Finance, said all exporters of the product must comply with the demands of Ghana Standard Board to ensure quality to both domestic and external consumers.
GNA