OFFICIAL STATEMENT AT MEMORIAN OF QADDAFI IN ACCRA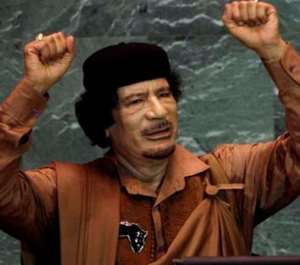 HONOURING AND CONTINUING THE LEGACY OF KWAME NKRUMAH AND MUAMMAR AL QATHAFI
STATEMENT BY THE U.S. NATO HANDS OFF LIBYA! HANDS OFF AFRICA COALITION! ON THE OCCASION OF A MEMORIAM HELD IN HONOUR OF THE LATE COL. QATHAFI IN COLABORATION WITH MUSLIMS SCHOLARS OF GHANA AT THE ISLAMIC TRAINING INSTITUTE (KAWUKUDI PARK), NIMA ACCRA, SUNDAY 11TH DECEMBER 2011

Honouring the legacy of Kwame Nkrumah and Muammar Al Qathafi means that Africans throughout Africa and the world must organize themselves so as to continue the struggle to defeat U.S., British, and French imperialism in Africa. These imperialist nations have been enemies of Africa from their initial contact with the continent 500 years ago during the slave raid. Britain and France held over 90% of the colonies in Africa, and the U.S. is the foremost neo-colonialist in Africa today. They were and are the main factors in the counter-revolution in Ghana that overthrew Kwame Nkrumah, and are the culprits in the assassination of Muammar Al Qathafi in the unjust illegal war waged against Libya.
NKRUMAH AND QATHAFI LEGACY WILL UNIFY AFRICA!
Both Nkrumah and Qathafi contributions to Pan-Africanism (the total freedom and liberation of Africa under an All African Union Socialist Government) are outstanding! Pan-Africanism is going to take all African people out of poverty, destroy neo-colonialism, and provide the conditions for the working African masses to take control of their resources (oil, gold, gas, diamonds, platinum, bauxite, uranium, manganese, timber etc) to create industries for manufacturing finished products to develop Africa into an economic powerhouse under socialism.
Kwame Nkrumah was a socialist with an independent philosophy and ideology (Philosophical Consciencism and Nkrumahism) who spearheaded the creation of the Organization of African Unity in 1963, but was undermined by European imperialism and prevented by two votes from uniting Africa in 1965 in an OAU meeting held in Accra, Ghana. Muammar Al Qathafi was a socialist with an independent ideology (Third Universal Theory) who spearheaded the change of the OAU to the African Union (AU) in 2002, moving the organization closer to an All African Union Government in 2005 (which was called for by Kwame Nkrumah). Qathafi was prevented by European imperialism, because of the illegal war waged on Libya, from installing in September 2011, a banking system for Africa through the auspices of the AU; the African Monetary Fund, African Investment Bank, and an African Central Bank. This would have freed African leadership from financial control of the U.S., Britain and France dominated International Monetary Fund and World Bank. This would have defeated neo-colonialism by eliminating Africa's indebtedness and laid the basis for an All African Union Government.
Kwame Nkrumah supported revolutionary African governments (Democratic Party of Guinea), liberation movements throughout Africa and waged an intense fight against settler colonial states in line with President Robert Mugabe and the Zimbabwe African National Union, while facilitating their revolutionary action through All African People's Conferences and Conferences of Independent African States to unify Africa. Muammar Al Qathafi supported the African National Congress (ANC) to fight against the racist apartheid settler colonial state of South Africa; helped to bring them to political power, and revolutionized the entire communication network of Africa by providing $300 million to put a satellite in space giving Africa an independent voice of unity without going through Europe.
Kwame Nkrumah called for an All African High Command to unite the military leadership of all African armies, and Muammar Al Qathafi was organizing to bring in to existence a 3 million man continental army. Kwame Nkrumah called for one African currency and a common market for Africa, and in September 2011 Qathafi would have began the process of instituting a single currency backed by Africa's gold. With Ghana and South Africa being the largest gold producers in the world it would have demolished the collapsing Euro-zone $49 trillion dollar indebted nations of Europe and the U.S. currencies, and severed the ties of dependency on the rotten economic system of European imposed neo-colonialism in Africa.
MAINTAINING AFRICA'S IDEOLOGICAL INDEPENDENCE
In order to instill independence of thought by creating an ideology that is derived from African history and culture to bring about a socialist state, Kwame Nkrumah wrote a book Consciencism, and Muammar Al Qathafi also wrote the Green Book for the same purposes to build a socialist state. To facilitate the independent ideology, Nkrumahism, Kwame Nkrumah organized a mass political party (Convention People's Party) which won as the National party of Ghana with 88% of the vote in 1960. The CPP was able to provide free education, free health care, have no unemployment, control over 70% of Ghana's resources and maintain the highest living standard on the African continent in 1966. Muammar Al Qathafi organized the Jamahiriya (Authority of the Masses) with an independent ideology, The Third Universal Theory, into People's Congresses and People's Committees that provided free housing, free water, free electricity, free medical care, free education, $50,000 for each married couple to start their married life; farmers received a free house, livestock, seed, and farming equipment for free, and by controlling 90% of the oil wealth Libyans had the highest standard of living on the African continent in 2011. Qathafi is the only leader in the history of humanity that dug deep beneath the Sahara Desert and created a river to provide free water for all Libyans.
During the counter-revolution against Nkrumah's government, Africans that were Pan-Africanist and born in the U.S. and outside of Ghana, were dismissed by the National Liberation Council on orders from the U.S. embassy and made to leave the country; training camps of freedom fighters from all over Africa were broken up—disrupting the coordination of the African revolution (reference Dark Days in Ghana by Kwame Nkrumah). Under Qathafi tens of thousands of black Africans from all over Africa were rooted out of Libya. They were thriving in the Jamahiriya system earning enough money to take care of their families in their respective countries strengthening the bonds of African unity and providing an exemplary example of a socialist society. The National Transitional Council (NTC) Al-Qaeda CIA trained terrorist mercenaries, at the behest of U.S. NATO bombing are murdering and raping black Africans, including black Libyans, causing tens of thousands of Africans to leave Libya. In each instance, Libya and Ghana, the ideological centres (at Sirte and Winneba) that trained Africans in independence of thought were targeted first, attacked and destroyed.
NKRUMAHISM AND THE JAMAHIRIYA WILL COME BACK TO POWER IN AFRICA
The U.S. NATO European military imperialist forces aim was not only to attack the ability of Africans to think independent ideologically, they also started the war by using the NTC Al-Qaeda CIA trained terrorist mercenaries to overthrow the Jamahiriya to take the country's oil. This is forcing their puppets to take loans so as to impose dependency with a neo-colonial ideology and economic structure. This was the same aim of the British, French, and U.S. intelligence agencies that paid reactionary elements in Ghana's police and military to overthrow Kwame Nkrumah and the CPP government, which has the Ghanaian masses suffering today in poverty as a (Heavily Indebted Poor Country) HIPC indebt to European imperialism with European capitalist in control of 90% of Ghana's oil and gold; thus placing the country under neo-colonialism; agreeing to an occupying force of U.S. troops at Ghana's air force base. In contrast, under Qathafi and the Jamahiriya, Libya had no debt, and there were no foreign troops on Libya's soil. This illustrates how the working masses of Ghana and Libya struggles are identical in taking control of their resources and fighting against U.S. NATO neo-colonialist occupation forces.
The attacks waged by U.S. and European imperialist forces against Nkrumah and Qathafi are a testimony of their dedication to the freedom of Africa and justice for the African masses. Qathafi and the Jamahiriya has been fighting U.S. NATO forces for 9 months (the combined power of the U.S. and Europe's military) the most powerful military technologically in the history of humanity, representing 700 million people, while Libya comprises of only 6 million people. No other African country has fought this long against a force as such, which infers that if Africa unites we can defeat U.S. and European imperialism in a matter of days!
As a consequence of this resilience of the Libyan masses, Qathafi's and Nkrumah's deaths should not be in vain, nor should the deaths of Ghanaians and Libyans and their sacrifice go without retaliation. The U.S. NATO Hands off Libya! Hands off Africa! Coalition is calling all progressive and revolutionary organizations to join our coalition, and Africans in general to join an organization to defeat U.S. NATO imperialist invasion in Africa; defeat neo-colonialism in Africa and fight for an All African Union Socialist Government so as to bring the Jamahiriya back to power in Libya and enthrone Nkrumahism in Ghana. This is the only way we can truly honour the legacy of Kwame Nkrumah and Muammar Al Qathafi.
VICTORY TO THE JAMAHIRIYA!
DEFEAT U.S. NATO IMPERIALIST MILITARY INVASION IN LIBYA AND AFRICA.