Emirates presents ticket to raffle winner in support of CFC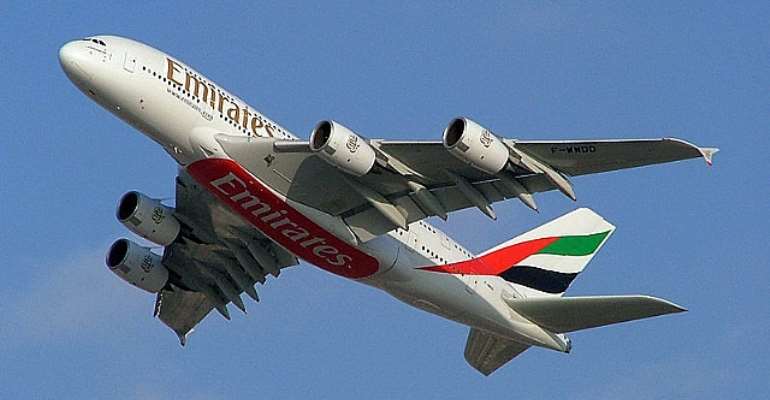 Accra, Dec. 12, GNA – The management of Emirates Airlines has presented a prize ticket to the winner of a raffle draw held at a bazaar organised by the German Swiss International School (GSIS) to support Chance for Children (CFC) in Accra .
The prize worth 1592 dollars which is a return ticket to Dubai was won by Mrs Esther Neniel-Purucker, a parent after she purchased a raffle ticket worth GH¢10.
All proceeds from the bazaar and the raffle would be donated to Chance for Children (CFC), an NGO that caters for street children in Accra.
Mrs Nahna Atta-Krah, Senior Sales Executive at Emirates who presented the ticket to the winner on behalf of the West African Regional Manager of the Airline, said Emirates was happy to support a worthy cause by helping street children through the donation of a ticket.
"We are happy to meet a social need by aiding the project to support the cause of helping street children in Ghana," she said.
Mrs Atta-Krah said the donation was an opportunity for Emirates to position itself as the carrier of choice to Europe and other destinations and promote Dubai as a hub where passengers transiting through Dubai to enjoy its hospitality industry.
Mrs Brigitte Merki-Ibrahim, Board Member and Head of Marketing at GSIS, said the bazaar was an annual event and were donating all the money raised to the CFC.
She said the exhibition at the bazaar included items made by students and companies and items being exhibited included arts, crafts, clothing, footwear, beads, food and cosmetics.
Other prizes for the raffle, she said, included dinners for couples at various restaurants, over-night stays in sponsoring hotels, gift vouchers, toys and other souvenirs.
CFC was established in 1999 by Mr Amon Kotey and his wife Daniela Ruedisueli Sodjah to support street children by providing training, food, medical and psychological care and to re-integrate the children into society.
CFC has a drop–in centre in Jamestown, an Accra suburb, which provides relief to street children, where such children do drop by and feed, receive medical care and lessons.
They also have a home for about 50 children for girls and boys at Hebron, on the outskirts of Accra.
GNA