Catholic Bishop cautions Christians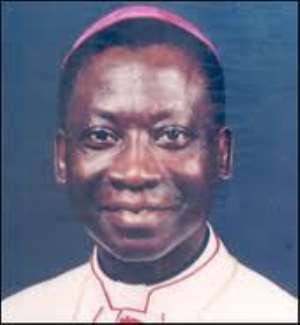 Fiapre (B/A), Dec 12, GNA - Most Reverend Matthew Kwasi Gyamfi, the Catholic Bishop of Sunyani Diocese, has cautioned Christians especially the youth to use the Christmas season to reflect on the life of Jesus to sustain peace to enhance growth and development in their communities.
"Let us not be complacent with the peaceful atmosphere we are enjoying but to work tirelessly to sustain it in subsequent years", he said and added that even though Adam and Eve were enjoying in the Garden of Eden, they were evicted due to complacency and flirting with evil.
The Bishop said this at the Festival of Nine Lessons and Carols and inauguration of the Pax choir of the Catholic University College of Ghana (CUCG) at St. Peter's Catholic Church at Fiapre, near Sunyani.
He said Ghana was the bench mark for measuring the level of the practice of democracy in Africa and this should not be taken for granted.
Most Rev Gyamfi appealed to Ghanaians to avoid abusive and provocative language when dealing with one another as that could ignite violence and said "we must all consciously and actively search for peace else we will be chased out by god from our Garden of Eden if we flirt with evil."
Mr. Kwasi Oppong Ababio, the Sunyani Municipal Chief Executive, appealed to the youth to be circumspect when dealing with politicians who would always seek their interest.
Nana Kwasi Gyan Gyau III, chief of Akrofrom near Berekum who presided, appealed to the youth to be very responsible and disciplined at all times to help to sustain the peace in the country.
GNA