Vakpo youth demonstrate against district capital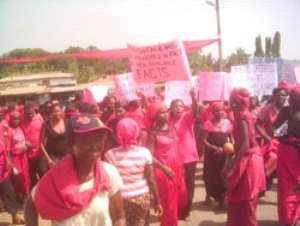 The youth of Vakpo in a demonstration against the siting of the new North Dayi District capital at Anfoega, through principal streets of Vakpo
The youth of Vakpo traditional area in the Kpando District have vowed not to be part of the new North Dayi District, if Anfoega is made the capital.
To back their demand,  over 400 youth went on a peaceful demonstration that lasted for almost 3 hours through the principal streets of Vakpo, singing war songs to express their displeasure about naming of Anfoega as the district capital of the new North -Dayi District.
They carried placards some of which read 'Anfoegas are our tenants and can not be served', 'we want development in peace', 'consensus building enhances democracy', 'a true democrat is a listening government' and 'shame unto you anti-democrats', among others.
A Spokesperson for the youth, Mr. Stephen Akposi, who addressed the youth after the demonstration, said it was very unfortunate that the government failed to consult the traditional area before coming out with Anfoega as the district capital.
Mr. Akposi said the youth of Vakpo were very much aggrieved that government did not inform the chiefs and people of Vakpo about its intentions to create a new district and its failure to consult them as to where the capital of the new district should be located.
According to him, Anfoega which has been named as the district capita is the land of Vakpo.
Mr. Akposi stressed that when it became necessary to re-settle some communities during the construction of the Akosombo Dam, Vakpo was consulted and willingly offered land for the exercise in the interest of national development, and doubted why this time the NDC government could not consult the people of Vakpo on the creation of a new district as well as its capital.
Touching on the economic potential of Vakpo, the Spokesperson made it clear that Vakpo could boast of thousands of hectors of arable land out of which four thousand acres had been developed for various agriculture and other development activities and the Vakpo area used to be the site for the defunct United Ghana Farmers Council Farms in the First Republic.
Mr. Akposi continued that towns such as Aveme, Awate, Wusuta, Vakpo, Tsrukpe, Botoku, Tsorxor and Anfoega itself formed a virtual ring with Vakpo in the center therefore travelling to the capital, Vakpo would not create any inconvenience. He accused top officials who hail from Anfoega of being the brain behind the decision.
Mr. Akposi therefore appealed to the President, John Atta Mills to cause a thorough and comprehensive study to be conducted and the right decision taken for fairness and justice to prevail. He said the youth and chiefs of the Vakpo traditional area would wait patiently for the government to reconsider its decision on citing the capital at Anfoega.