Ga East Assembly commissions two new classroom blocks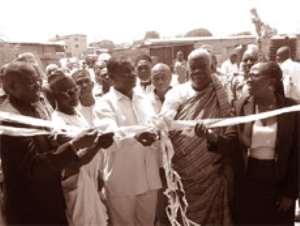 The Municipal Chief    Executive (MCE) of the Ga East Municipal  Assembly (GEMA), John Kwao Sackey, has reiterated the government's commitment to provide quality educational infrastructure at all levels of education in the municipality, and the nation at large.
To this end, he commissioned two completed 3-storey 18-units classroom blocks for the Madina Nkwantanang and Madina Fire Armour 2 &3 Cluster of Schools in the municipality.
The new school buildings, estimated to cost GH¢566.000 each, is expected to end the shift system at the Madina Fire Armour 2 &3 Cluster, while the one at Nkwantanang has already been put into use ahead of the commissioning, exiting their old wooden dilapidated structure, which has already been pulled down into the new school building.
Speaking at a short ceremony to commission and hand over the buildings, the MCE said his outfit was committed to ensuring that all projects inherited from the previous administration were completed, saying that the 'completion of these two buildings is ample testimony of our commitment to ensuring that all resources are fully utilised for the benefit of the residents whose monies were used, so that they do not go waste.'
He hinted that the Madina Fire Armour School would soon benefit from a water closet toilet facility to augment the already existing one, to avoid putting pressure on it when the shift system is done away with for only morning school, and also to avoid inconveniencing any pupil whenever the need arose.
He added that the contract for the supply of furniture for the school had already been awarded, and delivery was expected soon.
The Member of Parliament (MP) for the Abokobi Madina Constituency, Amadu Sorogho, was full of praise for the teachers, who he said, had demonstrated true commitment to their profession, even in the wake of a poor teaching environment.
He indicated that the MPs Best Teachers Award Scheme for teachers in the municipality would be held before the close of the year, to motivate and appreciate the efforts of imbibing good values into the pupils.
Alhaji Sorogho also announced that the Madina Fire Armour School would soon benefit from yet another 4-storey 18-unit classroom block to augment the existing structures.
Mrs. Cynthia Bosumtwi-Sam, Municipal Director of Education, on her part, expressed appreciation to the government for its commitment towards providing good educational infrastructure for the schools in the municipality, and appealed for the early completion of similar projects at the Madina Babayara and Ashongman Village Cluster of Schools, to allow for a good teaching and learning environment.
Pix: (right) The MCE, Kwao Sackey (middle), being assisted by the MP for Abokobi- Madina, Amadu Sorogho, the Regent of La Nkwantanang, Nii Niikoi Jonas, and Mrs. C. Bosumtwi-Sam to cut the tape to officially commission the school blocks