Veep Inaugurates New Power Station At Buipe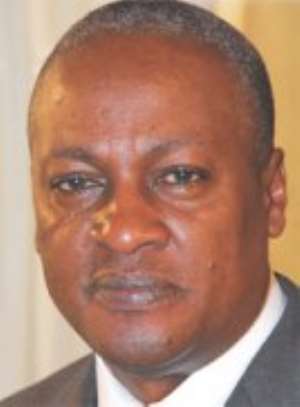 Vice President John Mahama
Vice President John Dramani has said the provision of electricity to rural communities would form a major component of the Savannah Accelerated Development Authority (SADA).
This, he said, would encourage more people in the SADA belt to establish small holder enterprises to better their lots and facilitate the socio-economic development of the catchment area of the programme.
Vice President Mahama said this when he inaugurated an 8.5 million-dollar-161/34.5 kilo volts power substation to provide reliable bulk power to the Savannah Diamond Cement Company Limited at Buipe in the Northern Region.
Apart from feeding the cement company, the project, executed by Ghana Grid Company Limited, would also replace the existing power supply system at Buipe from the shieldwire scheme with a conventional supply scheme to meet the anticipated growth in power demand.
The Bulk Oil Supply and Transport and the Volta Lake Transport company would also benefit from the substation to responsibly carry out their mandate in the area.
Vice President Mahama commended GRIDCo and Savannah Cement Company Limited for the partnership, which he explained, would go a long way to create jobs and stem the migration of the youth from the North to the southern sector of the country for non-existent jobs.
He appealed to all the traditional authorities in Buipe and its surrounding areas to resolve chieftaincy disputes and forge ahead for the development of the area.
Dr Joe Oteng Adjei, Minister for Energy, said the major developmental challenge in the country was lack of enterprises, and the provision of electricity in the rural communities was meant to accelerate economic development and enhance the financial development of the people.
He said as a national policy, the Ministry of Energy through GriDCo, would continue to provide power to the communities through the Self-Help Electrification Project and called on communities without the facility to exercise restraint for their turn.
Mr Moses Mabengba, Northern Regional Minister, said the provision of electricity was part of the Government's Better Ghana Agenda and advised beneficiary communities to take advantage of the facility to venture into productive ventures.
GNA