Don't pay ransom for Qaeda hostages, says Mauritania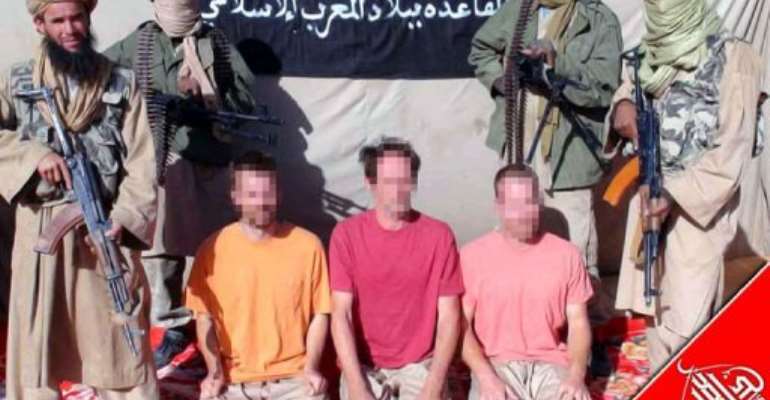 NOUAKCHOTT (AFP) - Mauritania on Sunday urged that no ransom be paid for European hostages held in the Sahel region by Al-Qaeda's North African wing, at a meeting of European and African defence ministers.
Twelve Europeans, six of them French, are now being held hostage in the arid and poor region south of the Sahara by Al-Qaeda in the Islamic Maghreb (AQIM) and by a breakaway faction of the militant group.
"I ask everyone to work to dry up the sources of terrorism and to push the kidnappers into a corner by not paying ransom," said Mauritania's defence minister, Ahmedou Ould Ideye, at the opening of the meeting.
French Defence Minister Gerard Longuet said that "we maintain by all appropriate means many channels of information and, if necessary, hold negotiations," adding that the first priority was to bring home the hostages.
The conference brought together the defence ministers of the so-called "5 plus 5" group -- Spain, France, Italy, Malta and Portugal in southern Europe, and Algeria, Libya, Tunisia, Morocco and Mauritania in North Africa.
The ministers agreed later Sunday to set up a non-permanent headquarters for intervention in humanitarian disasters and adopted an action plan for 2012 on training and exchanges, and joint drills and exercises.
It was the group's first meeting since regime changes swept through Tunisia and Libya and since an Islamist election victory in Morocco last month.
The ministers discussed the battle against insecurity in the Sahel region brought by AQIM, which is active in Mali, Niger, Algeria and Mauritania, and amid a proliferation of weapons from conflict-torn Libya.
Since the fall of the Kadhafi regime, hundreds of heavily armed men, many of them Tuaregs, have returned to Mali and Niger after fighting alongside regime forces, raising the security stakes in the troubled region.
The general secretary of the Libyan defence ministry, Youssef Ahmed Al-Maghouch, said weapons of the former rebels who have seized power "are in safe hands" and "pose no danger to the stability and security of Libya".
He also refuted claims that there are "jihadists and suspected terrorists" among the ex-rebels and the National Transitional Council.
AQIM, which has its roots in Algeria, has camps in Mali which it uses as a launchpad to carry out armed attacks and kidnappings in the Sahel, where the group is also involved in arms and drugs trafficking.
Five Europeans were kidnapped in two days last month.
On November 25, an armed gang snatched a Swede, a Dutchman and a man with dual British-South African nationality from a Timbuktu restaurant, killing a German with them who tried to resist.
A day earlier two French nationals were taken from their hotel in Hombori 240 kilometres (150 miles) to the south, near the border with Niger.
AQIM is also holding four French citizens kidnapped in Niger in 2010.
Mauritania's defence minister reaffirmed his country's determination to face "the security challenges in the region," noting that a "strategy of preemptive strikes and building up the army's capacity has borne fruit."