AUCC graduates urged to apply knowledge into productive use -Minister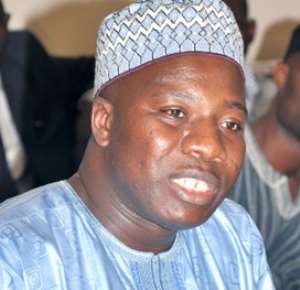 Accra, Dec 10, GNA - Mr Mahama Ayariga, Deputy Minister of Education, on Saturday urged graduates of the African University College of Communication (AUCC) to put to use the knowledge they had gained in productive areas so as to better their communities and the country at large.
He urged them to work hard to justify the investment made on them and use their qualifications as springboard to attain higher laurels since education was key to success and a stronghold to any economy.
Mr Ayariga said this at the 1st Graduation Ceremony of the AUCC degree programme and 8th Graduation of the Diploma students in Accra. A total of 46 students graduated with bachelor degree and 33 in diploma.
The ceremony was under the theme: "Communication is the Major Driving Force in Today's World".
The Minister noted that the theme was timely because it was impossible to talk about communication without talking about technology, adding that the invention of technology and the growth of the media, had revolutionalized the way human beings communicated with each other.
He urged the graduates to be an ambassadors of change and communicate effectively to inform and educate the public.
Mr Ayariga explained that the consequences of poor communication would also manifest whether the person misrepresenting the facts did so intentionally or not.
He noted that the conflicts in Rwanda and Kenya were as a result of poor communication and unprofessional management of information and urged media players to be professional in their duties.
Professor Ernest Aryeetey, Vice Chancellor of University of Ghana, said communication facilitated the transformation of human society both in written and verbal.
He, therefore, advice the graduates to be professional in their reportage and be guided more by the ethics of the profession to ensure effective communication.
Prof Aryeetey also appealed to media practitioners to use the power of the media to educate society and not to disseminate information that would lead to fear and panic.
Mr Kojo Yankah, Founder and President of AUCC, said the University had added AUCC School of Business to its programmes to bring business, banking and finance closer to communications.
Mr Yankah announced that Mo Ibrahim Foundation, had renewed funding for AUCC's Media Monitoring Centre to provide regular and accurate reports on governance issues in the West African Media.
He noted that UNESCO had provided 42,000 dollors for the training of female journalists under a Gender Mainstreaming Project schedule to take-off in January 2012.
Mr Yankah said the University had established AUCC Distance Learning Centre in collaboration with the WorldWideEducation in Europe to be launched in early 2012.
He said the University would soon introduce Masters Programmes in Journalism, Integrated Marketing Communications and Health Communications to be handled by experience professors in the United States.
Mr Yankah urged the graduates to go into the world with greater determination not allowing negative tendencies in most job places to affect their outputs rather they should strive to distinguished themselves and discover their true identities.
Ms Joyce Stoff Boadi, the overall best students for the degree programme, speaking with the Ghana News Agency (GNA), expressed on behalf of her colleagues, their satisfaction for completing the course and promised that they would work hard to contribute meaningfully to national development.
GNA