Poultry products defrosting at Tema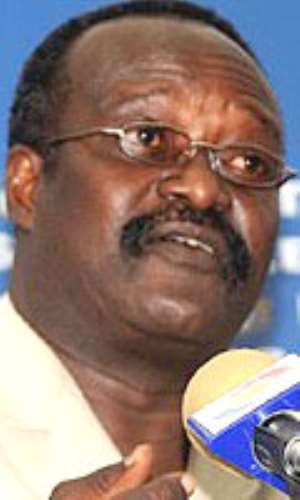 Mr. Kwesi Ahwoi, Minister for Food & Agriculture
Ghanaian poultry products importers have appealed to the Customs Division of the Ghana Revenue Authority (GRA), and other agencies responsible for inspecting imported products, to conduct only one inspection of their imports, since multiple inspections lead to the defrosting of their products.
They said the inspection should also be done at the destination of the goods, instead of the port. According to the spokesperson, Charles Essien, the re-examination by officers at the ports demands that importers rent cold stores elsewhere to store the product until the container is re-examined, which is not fair. 'This certainly, is not fair to both importers and consumers,' he said
Mr. Essien made the appeal at a press briefing in Accra yesterday.
He stated that the ideal temperature for frozen poultry should be negative 18 degrees, but due to the cumbersome clearing process, the consignment defrosts at the port.
He noted that the situation does not only alter the taste of the product, but increases the probability of food poisoning, since the product cannot be re-frosted, especially, during weekends.
'We are calling on officials to ensure the quick discharge of containers as soon as the duties are paid, to enable the importer to re-plug the containers to maintain the standard temperature,' he pleaded.
The spokesperson also complained of lack of unity among importers, which had led to lack of uniformity in pricing by suppliers.
Mr. Essien further appealed to the government to reduce tax incentives on imported poultry products, since the final cost rested on consumers.
Furthermore, the importers called on personnel of the Customs Division of the Ghana Revenue Authority (GRA), as a matter of urgency, to discharge containers containing poultry products promptly, to enable importer(s) to re-plug the consignment to maintain the standard temperature.
They say, previously, when the clearing documents delayed, the importers were permitted to deposit money as duty to officials of the then Customs Excise and Preventive Service (CEPS), now Custom Division of the GRA, to enable the importers clear the goods and then get back to complete the transaction when the Final Classification and Valuation Report (FVCR) document arrives. But, this facility has been cancelled.
'The cancellation of this facility is adversely affecting us, because we incur more loses, since we keep paying demurrage and electricity each day, the container stays at the port. We would be glad if the authorities re-instate the facility.'
According to the importers, in spite of all these, after satisfying all the requirements, the containers are still kept at the Port of Tema for re-examination.
By their highly perishable nature, imported poultry products require prompt attention to save the huge investments of the importers, and to rake in maximum tax revenue for the state, they stressed.