Hyundai begins Second phase of malaria campaign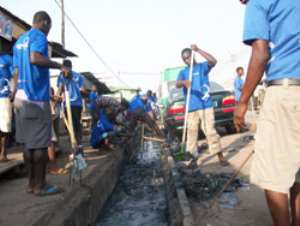 Hyundai Cleanup Campaign 2011
As part of the second phase of the anti-Malaria campaign, the Hyundai Motor Company has committed millions of Ghana Cedis in the fight against malaria in some principal cities in some selected regions of the country.
According to Auto Plaza, the sole distributors of Hyundai vehicles in Ghana, the campaign is part of its corporate social responsibilities to complement government's efforts in fighting malaria.
The campaign, dubbed 'Hyundai Auto Plaza Stop Malaria Campaign,' would be driven by the slogan: 'Moving the World Together', in an attempt to whip up interest.
At a recent cleanup exercise towards combating malaria in cities, Hyundai Motor Company pledged to organise series of clean-up exercise to help eradicate the menace.
Speaking at the cleanup exercise at Chokor, a suburb of Accra, the Chief Executive Officer (C.E.O) of Auto Plaza, Mr. Jihad Hihaji observed that the cleanup exercises in these communities were meant to rid the communities of filth to ensure malaria-free communities.
'As part of our resolve, after the cleanup exercise, we donated 500 malaria mosquito nets, 500 Hyundai branded footballs, 1000 branded Hyundai T-shirts as a package in motivating the community towards keeping clean environment', he Added.
The Hyundai Motor Company campaign trail would be moving to the Western and Central regions to replicate the same cleanup exercise in other regions.
He said that the fight against malaria cannot be the headache of the Ministry of
Health only, hence it required the contribution of various organizations.
On that score, he urged corporate organisations, non-governmental organisations and individuals to get actively involved in the crusade against malaria.