Nana Addo must not repeat 2008 mistake - J. H. Mensah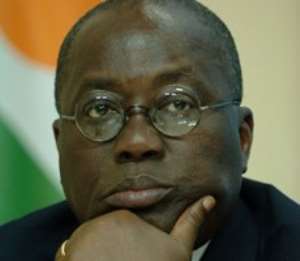 Nana Akufo-Addo
Former Senior Minister under the Kufuor administration, Mr J. H. Mensah is warning the party's flagbearer against picking a running mate from the three regions up north just because of ethnic balance.
Mr. Mensah was speaking exclusively to Joy News on who should partner Nana Akufo-Addo in the 2012 elections.
The NPP elder will not put forth names but he gives some criteria for a possible candidate.
He fears Nana Addo could make a big mistake as he did with the selection of Dr. Mahamadu Bawumia in the 2008 elections if he does not shelve the idea of ethnically balancing the NPP ticket.
"It is a particularly difficult task [selecting a running-mate]" he said, but insisted that "if Nana could be allowed the freedom to judge the people on the merits of their work, then you would find that on the merits of their work, very soon people will forget about whether this man is a Gonja or that one is a Manprusi."
Mr Mensah said the NPP flagbearer's choice of a running-mate must not be based on where the individual comes from as he believes that criteria will be a mistake; "I think we need a person that is good."
The 83-year-old told JOY News' Sammy Darko that Dr Bawumia was "more or less a last minute choice and that was not the way to go about it."
He doesn't care if Nana Addo goes for a female running-mate because "I know some women who are damn good."
Meanwhile, some NPP Mamprusi youth in the Upper East regional capital Bolga, have been reacting to reports about the Bugri Naabu's caution to the NPP flagbearer, against choosing his 2008 running mate, Dr Mahamadu Bawumia again.
Addressing a news conference in Bolga, spokesperson of the youth, Seidu Gazirey Kamal advised the Bugri Naabu and other party members to desist from such negative campaigns as the flagbearer prepares to reveal who he has selected to partner him.
He said Dr Bawumia was a popular candidate and that his popularity was still soaring.
In a related development, a group calling itself NPP Zongo Pioneers is asking NPP flagbearer Nana Akufo-Addo to choose the deputy MD of Metro TV, Alhassan Haruna, to partner him for the 2012 elections.
Members of the group say he stands tall among personalities who have come up for consideration as his running-mate for the presidential race.
The NPP did not do well electorally in Zongo communities and the northern regions in the 2008 elections. Dr Bawumia was believed to lack the appeal to voters in these communities, a situation the critics say caused Nana Addo's defeat in the 2008 elections.
The NPP Zongo Pioneers believe Mr Alhassan will succeed where Dr Bawumia failed.
So far, Dr Bawumia, Deputy Minority Leader in Parliament, Mr Ambrose Dery, Alhaji M.N.D. Jawula, Alhaji Rashid Bawah and Mr Alhassan are in the running for the vice presidential candidacy of the NPP.