DRCongo vote results near as police, opposition clash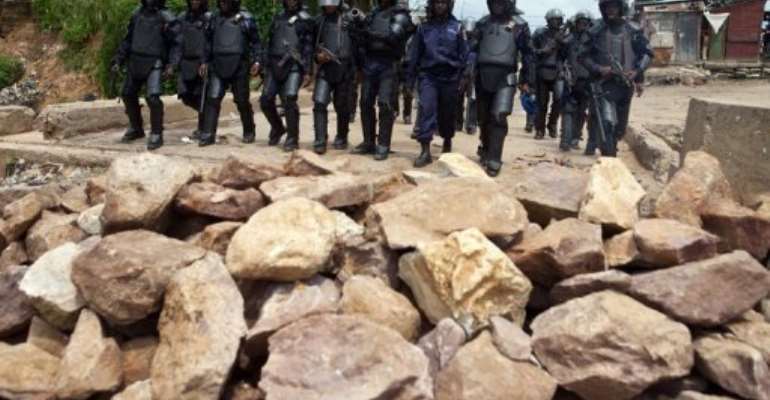 KINSHASA (AFP) - President Joseph Kabila looked poised to claim a new five-year term as officials prepare to announce the winner of the DR Congo's elections, a day after opposition supporters clashed with police.
The announcement, originally scheduled for Tuesday but postponed for 48 hours by election officials, has created trepidation after a campaign marred by street fights between rival partisans and deadly police crackdowns on opposition supporters.
President Joseph Kabila, in power since 2001, looks on track for another five-year term, having run against a divided opposition field of 10 candidates in the single-round race.
He led top rival Etienne Tshisekedi by 49 percent to 33 percent in partial results announced late Tuesday, with 89 percent of polling centres counted.
The election commission said late Wednesday the count was more than 90 percent complete and that it expected to have finished in "a few hours".
It said the country should "wait calmly for the publication of the provisional results, which will be tomorrow, December 8."
The conflict-prone country has been on edge as it awaits the results of last week's polls.
In Kinshasa, where police have been out in force and some 20,000 soldiers are on stand-by at military bases, police looked determined Wednesday to quash opposition demonstrations before they could start.
Outside the headquarters of Tshisekedi's party, the Union for Democracy and Social Progress (UDPS), police in riot gear fired teargas whenever a group of people appeared to be forming.
Police also fired shots in the air and used teargas to disperse some 100 Tshisekedi supporters in the western neighbourhood of Pompage, where the young "fighters", as the veteran opposition leader calls his backers, had blocked a street with rocks and were throwing stones at officers.
Residents of the neighbourhood said they felt trapped between partisans and police.
"These supporters are gangsters, they're going to get people killed," said a pregnant woman.
"The police broke down my door. They didn't find anyone but they took 20,000 francs ($21, 16 euros) from me," said an elderly woman.
In Kintambo neighbourhood, police chased away a group of protesters allegedly trying to set fire to the Methodist church where election commission chief Daniel Ngoy Mulunda is a pastor.
Elsewhere, the normally bustling city of 10 million people remained unusually quiet as the long wait stretched into its ninth day.
Observers said the delay likely only ratcheted up tensions.
"When you reach a certain level of disorganisation, people wonder if the process is really free and fair and if there's no manipulation behind the scenes," said Thierry Vircoulon, central Africa director for the International Crisis Group, which has put the country on its "conflict risk alert" list.
Tshisekedi has rejected partial results showing Kabila in the lead and made veiled threats of violence if the incumbent is declared the winner.
The UDPS said it would "tolerate" the result delay, but reiterated its criticism of the vote count and called for results to be released for every polling centre.
UDPS secretary general Jacquemin Shabani called the issuing of partial results "biased, opaque and irresponsible".
Tensions have also spilled over into the Congolese diaspora.
Anti-Kabila protests by Congolese expatriates have turned violent in Brussels, London, Paris, Johannesburg and Pretoria.
Human Rights Watch has said at least 18 civilians were killed in election-related violence from November 26 to 28, mostly shot dead by Kabila's presidential guard as it put down a Tshisekedi rally in Kinshasa.
The elections are just the second since back-to-back wars from 1996 to 2003 in a country ranked last on the UN's development index despite a wealth of cobalt, copper, diamonds and gold.
Election officials, running chronically behind schedule, had to bring in more than 80 aircraft to get ballots distributed across a country two-thirds the size of Western Europe. Poor infrastructure has made counting equally slow.
The supreme court has until December 17 to review the result and declare the official winner, who is due to be sworn in December 20. Provisional parliamentary results are due in mid-January.