Oguaa Mayor urges school pupils to read widely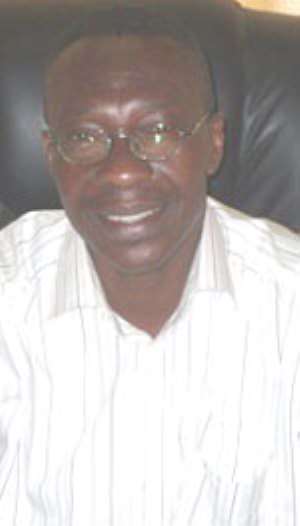 Anthony Egyir Aikins, Cape Coast Mayor
The Mayor of Cape Coast, Anthony Egyir Aikins, has challenged pupils in the metropolis to inculcate the habit of reading, in order to broaden their horizons, and also achieve academic excellence.
Speaking at a special basic inter-schools quiz competition to climax this year's celebration of the International Book Day on Tuesday, Aikins admonished the pupils to constantly work hard, and take initiatives that would help them acquire more knowledge.
He again appealed to the pupils to be bold enough to contact their teachers, or any scholar higher than them, to explain any passage they did not fully understand in a story book or textbook they are using.
'It is only by sharing ideas and constantly seeking to know more that you can improve academically,' he told the enthusiastic pupils and teachers who gathered in the Central Regional Library to celebrate the occasion.
The Mayor further made a passionate appeal to teachers to guide their pupils and shape them for a brighter future, adding that there was nothing glorious to a teacher than to see his or her pupils climbing the ladder of success, and becoming useful to humanity.
The joy, he said, was immeasurable to teachers in that regard, and praised the pupils for their impressive performance in the quiz competition, and urged them to keep it up.
On her part, the Central Regional Librarian, Ms. Elizabeth Arthur, said since April 2 1967, the International Book Day has been set aside worldwide to promote children's books, and also honour the birthday of Hans Christian Anderson, a legendary author of plays, poems and classic fairy tales.
Ms. Arthur said the programme was meant to encourage children to read more books, in order to inculcate in them the reading habit, and also draw their attention to the facilities they have in the library.
She, therefore, appealed to parents and guardians to register their wards with the library, to enable them borrow books. She said the library takes GH¢50p and GH¢1 from primary and Junior High School pupils respectively, per year.
Ms. Arthur commended the Member of Parliament for Cape Coast, Mr. Ebo Barton Odro, for contributing GH¢1,500 towards the celebration. She, as well, praised the Kakum Rural Bank and Barclays Bank for their immense support over the years.
For the primary category of the quiz, Wesley Girls clinched the ultimate prize with 20 points, which was followed by Adventist with 19 points, while Morning Star, St. Monica and Child Care had 18, 15 and 14 points respectively.
In Junior High School category, University JHS won the first position with 46 points, while Golden Treasure came second with 40 points. Ekem Ferguson came third with 36 points, while Mfantsipim JHS came fourth with 33 points. The participants were given certificates and hampers as prizes.