Residents live semi-submerged in Madagascar capital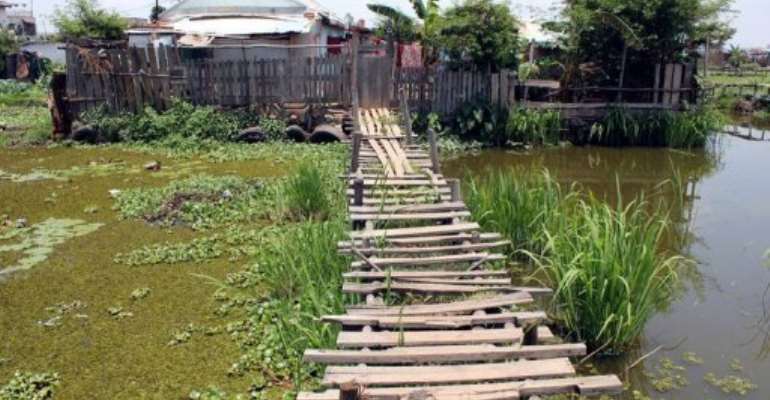 ANTANANARIVO (AFP) - Razafindramanga is a prisoner in her own home.
At 78 years old, she can no longer navigate the maze of wooden planks that pass for bridges linking the settlements in low-lying areas of Madagascar's capital.
The capital Antananarivo was built on hillsides, but recent arrivals from the countryside have settled among rice paddies in low-lying regions, pushing them up against a chronic danger that is about to return: flooding from seasonal rains.
Razafindramanga has already fallen once from the wobbly planks, injuring her head.
"Even in the dry season, there's no longer a passage without waist-deep water. For four years, I haven't been able to leave here to go to church or to the main road," she said.
While parts of the city flood every year during the rainy season that runs from December to February, in this neighbourhood, the water never goes away.
"It's the big new construction over there, and the debris in the canals" that keeps the water from draining, Razafindramanga said.
Shacks lined every embankment, surrounded by rice paddies and expanses of wild water lillies. The settlements are connected only by the uneven planks, where a boy balances as if on a tight-rope, a bucket of water perched precariously on a shoulder.
The flimsy roofs offer little shelter from the rains, said Sahondra Rahantamalala, who crouches with her six childen below a ceiling too low for her to stand.
"The roofing sheets are good for nothing, so we've reinforced the roof and walls with plastic sheeting," she said.
Their beds are sometimes underwater, even though they're raised on bricks mushed into the damp earth. Razafindramanga's house looks ready to collapse.
"I've lived here a long time. This house belonged to my mother. But I can't leave because I don't have any money or anywhere to go," the laundry washer said.
Even in a city where half the population lives in shanty towns, Andavamamba is clearly one of the worst parts: No sanitation, no electricity, no clean water.
"We live like this. But the children go to school, the adults go to work," said Henriette Ravaoharison, who volunteers for the neighbourhood's social services programme.
There's not much she can offer. Plastic sheeting donated by local government, and planks from the district to shore up some bridges.
Like Razafindramanga, she blames new construction nearby for the dismal pace of dredging and ditch-digging to improve the water drainage.
Playgrounds have all been submerged, and now "during the rainy season, most of the children get sick. They cough and get diarrhea, a diarrhea that lasts a long time," she said.
Despite their dire living conditions, residents of Andavamamba aren't completely off the grid.
"Most of them living here are enrolled in the district register. I'm personally responsible for preparing birth certificates for people who don't have one," Ravaoharison said.
"Right now, I'm urging everyone to register because we need to prepare the voter roll for the next elections," she said.
Former president Marc Ravalomanana was ousted in 2009, but Madagascar is inching toward resolving the political crisis that has hindered the vast island's development.
Rain will fall regardless.
Neighbourhoods like Andavamamba, where reliable housing seems like a mirage, have never been a priority for Madagascar's leaders.