Economy is suffering from ' Kwashiorkor ' - Prof Gyan Baffour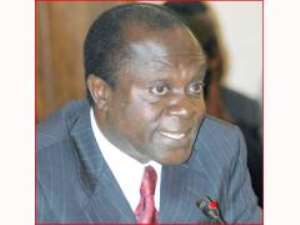 Accra, Dec. 5, GNA – Professor George Yaw Gyan- Baffuor, New Patriotic Party (NPP) Member of Parliament for Wenchi has noted that the national economy is suffering from Kwashiorkor (malnutrition).
He said the actual growth rate of the economy was 6.8 per cent and not 13.6 per cent as announced by Dr Kwabena Duffuor, Minister of Finance and Economic Planning in the 2011 Budget Statement.
Contributing to the debate on the fiscal policy in Parliament, he said the Minister's claim that the economy grew by 13.6 per cent was an attempt to obfuscate the situation and failing to tell Ghanaians that half of the growth was from oil production.
He observed that if oil production was removed it meant that the growth was only about 6.8 per cent.
Prof Gyan-Baffuor said the Minister also failed to tell Ghanaians that the non-oil economy shrank and grew at only 6.8 per cent.
He said during the NPP era, non-oil Gross Domestic Product (GDP) - the traditional economy of the country which is shrinking grew progressively from 3.7 per cent in 2000 to 4.2 per cent in 2001, 4.5 per cent in 2002, 5.2 per cent in 2003, 5.6 per cent in 2004, 5.9 per cent in 2005, 6.4 per cent in 2006, 6.3 per cent in 2007 and 8.43 per cent in 2008.
He said the economy started shrinking and showed signs of chequered growth under Mills three- year rule.
The former Deputy Finance Minister said the economy shrank from 8.43 per cent in 2008, 4.0 per cent in 2009; rose a bit to 7.7 per cent in 2010 and shrank again to 6.8 per cent in 2011.
"Madam Speaker when the economy was injected with the oil, the belly bloated to 13.6 per cent in 2011 as the non-oil economy representing the buttocks caved-in to 6.8 per cent and the legs representing the sectors and sub-sectors of the Kwashiorkor shrank and wobbled," he said.
Prof Gyan-Baffour said as a result of this Kwashiorkor economy, there was a bloated overall GDP growth yet the economy is not generating enough employment while most citizens cannot make ends meet.
"Market women get up very early every day, work hard to bring food to the table but cannot sell their goods to provide decent meals for themselves and their children, parents cannot afford school fees, young men and women are being wasted. They line up along streets and on the highways to sell whatever they can lay hands on."
Prof Gyan- Baffuor said a project to widen the tax net to include professionals and economic agents in the informal sector was a good idea but was also a signal to kayayes (porters), market women and the down trodden to beware that the little they have would be "squeeze" from them.
He said while increasing taxes on the poor, the national fiscal stabilisation tax on banks, and the rich who earned normal profit had been abolished.
Prof Gyan Baffour noted that the budget was interested in collecting taxes, describing it "as a white bandage that is being used to cover the deep wounds inflicted by the confused and at times conflicting policies of the government''.
He said the budget statement was the last chance for the government to rectify their mistakes but they lost it.
Mr Paul Collins Appiah Ofori, NPP Member for Asikuma/Odoben/Brakwa said the budget created opportunity for people to defraud the state due to increases in tax on payroll and called on the Speaker and members to reject the fiscal policy.
He said what was needed was specific budget instead of "incremental budget as it helped to shelve ghost names".
Mr Seth Terkpeh, Deputy Minister of Finance and Economic Planning disputed Mr Appiah Ofori's assertions saying, that was not the way the budget was prepared.
GNA