Madagascar businesses struggle under political crisis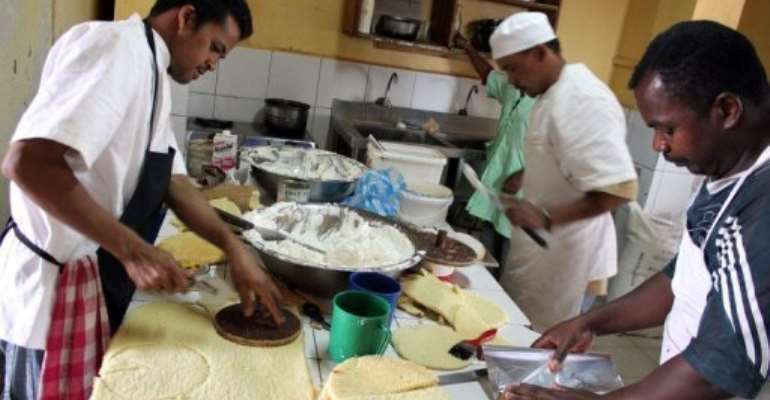 ANTANANARIVO (AFP) - Madagascar's economy is dominated by a few big businesses and an informal sector, but everyone in between has been squeezed since a 2009 coup dampened tourism and led donors to cut off aid.
"Small and medium-sized businesses are less stable. With less liquidity, they are less equipped for coping with the difficulties," said Noro Andriamamonjiarison, head of the Madagascar Business Group.
"The hardest-hit sector is without a doubt construction and public works. Highly dependent on donors, its total turnover fell from 700 to 200 billion ariary ($331 to $94 million, 260 to 74 million euros), and 7,000 jobs were lost," she said.
The UN Development Programme put the number of jobs lost at 200,000 across Madagascar since March 2009, when elected president Marc Ravalomanana was ousted by Andry Rajoelina with the military's backing.
Rajoelina now heads a transitional government meant to steer the vast Indian Ocean island state back toward constitutional order and new elections, a process moving in fits and starts.
Since the coup, most international aid has been suspended -- a crippling blow to a country where donors fund half of the national budget.
Dozens of textile companies shut their doors after Madagascar lost its preferential trade access to the United States, which requires a commitment to democracy in exchange for lifting tariffs.
Tourism also tanked after the coup, but has rebounded this year.
These troubles have rippled through the broader economy and weakened household consumption. Sales are down an average 25 percent.
Herijaona Randriamajanirina owns several chic clothing boutiques in the capital Antananarivo, including one that was looted during riots in January 2009.
It reopened five months later, but business remains 40 percent lower than in 2008, he said.
He has had to reschedule his loan payments at a micro-finance bank due to the mounting financial pressures.
Sales have not completely collapsed, however, because new customers have emerged.
"There's a lot of new money. I don't know where the money comes from, but they buy a lot," he said.
It turns out some businesses are benefitting from the crisis.
"In the city, you can see new buildings going up. This is investment financed by money coming from outside the system," said Andriamamonjiarison.
Zoe Razanamahefy is expanding his businesses, "anticipating the recovery," he says. He is building a terrace with sweeping views of the city, adding on to his bakery and branching into the hotel trade.
He thinks Madagascar's political transition is nearly finished.
"The crisis in 2002 (a post-election conflict) lasted seven months. This time, nearly three years. That's a long time for the middle class."
The middle class is the main market for Bongou, famed for its foie gras, which lost money in 2009, according to owner Josette Razafiarisoa.
She once slaughtered 700 to 1,000 ducks a week, which made about 30 tonnes of foie gras. Now she's happy to produce 20 tonnes, from 400 to 500 birds.
But she has kept on her 70 employees.
"We've cut down on expenses like fuel, sending our deliveries by bush taxi or by going less often to Behenjy," 50 kilometres (30 miles) away, where most of the company's birds are.
Madagascar's economy is expected to grow slightly this year, but it is not clear how much longer the small businesses can survive.
"Many have already disappeared. It's clear that we're nearing the end of what can be endured," said Andriamamonjiarison.
"Even the government's budget cannot go for more than a year without financial partners."