Ghana will not burn - Prez Mills assures UN boss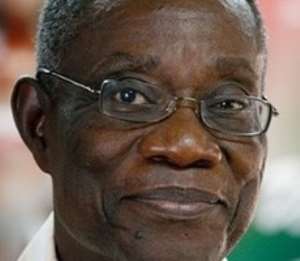 God forbid that Ghana will be destroyed under my watch - Prez Mills
President John Evans Atta Mills has requested the United Nation (UN) to keep a close eye on Ghana as the country remains strongly committed to ensuring that next year's general election is violent-free.
The President, who continued to pledge to ensure that Ghana came out of next year's election more united to build a better Ghana, said the UN, as well as other international bodies, must support Ghana's efforts to stay united and intact.
President Mills, who made the request when he met with the UN Secretary General, Mr Ban Ki-Moon, at the UN Headquarters in New York, said, "I will not allow Ghana to burn under my watch and want the UN to support me in this endeavour.
"I know that you are hearing some ugly noises but those noises will not be allowed to see the light of day," he added.
"God forbid that Ghana will be destroyed under my watch! I can assure you that in as much as we are confident that we will gain the confidence of Ghanaians to have another term, we will also make sure that all those who want to destroy our peace and stability are dealt with decisively."
According to President Mills, he inherited a peaceful Ghana and would leave no stone unturned to ensure that Ghana deepened the tenets of democracy under his watch.
He said the will and wishes of the people would remain supreme and nobody would be allowed to subvert the supreme interest of the majority of Ghanaians.
"I don't have an inordinate desire to be President; what I want is to better the living standards of Ghanaians and for us to leave in peace and harmony," he said.
For his part, Mr Ban assured President Mills that the UN valued very much the peace and stability in Ghana and would support every effort to make sure that the peace and stability of the country were sustained.
According to him, next year's election would afford Ghana another opportunity to fly high its democratic credentials and the UN would not sit idly by and allow the unacceptable to happen.
"The UN is prepared to provide all the support that we can to make Ghana remain a beacon of democracy, peace and stability and you can count on us," Mr Ban told President Mills.
"I admire your leadership qualities and will support your quest to build a better Ghana," the UN Chief added.
Mr Ban praised President Mills for the unique and important role he played in the restoration of peace in Cote d'Ivoire and also thanked the President for the warm reception and hospitality that he (Mr Ban) was accorded when he made a stop-over in Ghana on his way to Cote d'Ivoire to attend President Ouattara's investiture.
The UN Secretary General told President Mills that he intended to pay an official visit to Ghana next year, to which the President responded that Ghana was ever willing to play host to him.
President Mills was accompanied by the Chief of Staff, Mr Henry Martey Newman, and Ghana's Permanent Representative to the United Nations, Ambassador Ken Kanda, who was highly commended by the UN Secretary General for doing a good job.