'Four Kenyans killed' in action by Somalia rebels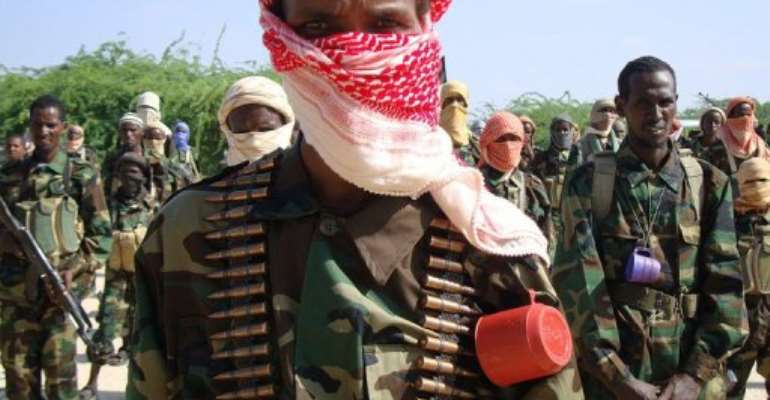 NAIROBI (AFP) - The Kenyan army said on Saturday it had lost four troops killed in action against Somalia's Shebab Islamist rebels while 10 had been hospitalised with wounds since it launched its incursion in mid-October.
Another four troops were killed in the crash of a helicopter on the first day of the intervention, military spokesman Colonel Cyrus Oguna told a press conference.
He was speaking after the Shebab said on Friday they had launched an attack on a small village in southern Somalia, "killing many enemy soldiers, including Kenyan soldiers."
The Somali government confirmed the fighting but denied the Shebab claims, saying government troops had had the upper hand.
"We are witnessing less and less resistance from Al-Shebab, and they are withdrawing deeper and deeper into central Somalia," Oguna said, while adding that "this operation is not time bound."
Kenyan Defence Minister Yusuf Haji denied Friday that Nairobi's forces were necessarily targeting the key port of Kismayo.
"All we said is that we were pushing Shebab away from our boundary and securing our border, and we will go as far as we will go," he said.
Nairobi sent troops and tanks into Somalia to fight the insurgents it accuses of a series of attacks on its soil, including the abduction of four foreign women.
They have been accompanied by forces allied to Somalia's provisional government in some of their operations.
The African Union's Peace and Security Council formally asked Kenya Friday to join the AU's AMISOM peacekeeping force in Somalia but Oguna refused to comment on the invitation.
AMISOM currently comprises 9,700 Burundian and Ugandan troops deployed solely in the capital Mogadishu.
The AU also welcomed Friday Ethiopia's decision to send forces back into its neighbour. Several hundred Ethiopian troops were seen in the country last month though Addis Ababa denied they were there.