Don't Patronize Prostitutes - Veep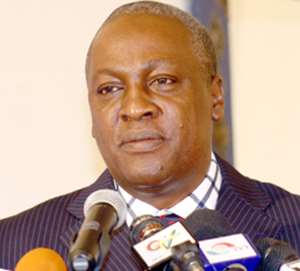 Vice President John Mahama
VICE-PRESIDENT John Mahama has cautioned the youth to desist from patronizing commercial sex workers in view of the high prevalence rate of HIV/AIDS among prostitutes across the country.
He said it was a very risky behaviour for the active group of the nation to patronize the services of these sex workers who were among the vulnerable groups with a prevalence rate above 20 percent.
Speaking at a ceremony to mark World AIDS Day in Obuasi, the Vice-President stated that in recognition of both the impact of HIV on the youth and the potential of the youth to significantly contribute to reducing new HIV infections, the nation chose the sub-theme; 'The role of the youth' in addition to 'Getting To Zero' theme adopted from the global vision.
'Our gathering here is a public demonstration of our renewed commitment to the collective effort to respond to HIV and AIDS and to care for those infected and affected by this disease in a stigma-free environment,' he affirmed.
Mr. Mahama said  whilst general knowledge levels among young people in Ghana remained relatively stable across the gender divide, comprehensive knowledge of HIV had been found to be low - thus 28.3 percent of females and 34.2 percent of males.
'Findings from a situational assessment on HIV and young people in Ghana commissioned by the GAC in 2011 indicate a low uptake of HIV Testing and Counselling Service (HTC). This affects the response in many ways as knowing one's status is considered as a critical entry to treatment, care and support services as well as HIV prevention,' he pointed out.
According to Vice-President Mahama, the assessment also revealed that there was a low personal risk perception of HIV infection among young people.
Dr. Angela El-Adas, Director General of Ghana AIDS Commission, pointed out that the theme; 'Getting To Zero' was an ambitious task, but not overly so and therefore required implementing the country's well-designed, evidence-based and results-oriented National Strategy and making adjustments as appropriate.
She said the focus of this strategy was on reducing new HIV infections by 50 percent in the next five years, with elimination of mother-to-child transmission of the disease.
According to her, Ghana was among five countries in the sub region whose HIV prevalence declined by more than 25 percent between 2001 and 2010 among young people.
'Declines in new HIV infections are also being spurred by changes in sexual behaviour, particularly in young people, as people reduce their numbers of sexual partners, increase condom use and are waiting longer before becoming sexually active,' the AIDS Commission Director General quoted from the 2011 World AIDS report released by UNAIDS.
 From Ernest Kofi Adu, Obuasi