Traditional ruler in UWR calls for decentralisation of agriculture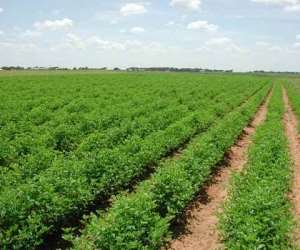 Sombo (U/W), Dec, 1, GNA – A traditional ruler in the Upper West Region has called on government to facilitate the process of decentralizing agriculture to encourage young people to take up agriculture as a business venture.
Naa Banka Nagyaali Oraa 11, a divisional chief at Sombo in the Kaleo Traditional Area, said agriculture was in the hands of the central government, a situation he described as being too weighty for the government to effectively handle.
He said if agriculture was decentralized it would encourage farmers' participation and collaboration with district, municipal and metropolitan assemblies to identify crops that each district has an advantage and design strategies and packages to produce those crops.
He said would give a clear distinction as to the needs of farmers in each district as well as the financial packages which the private sector and donor agencies could support because they could know the type of crops that farmers were capable of producing in the districts.
Naa Oraa was interacting with the Ghana News Agency at Sombo during an inspection visit to the Nadowli District Farmers Mechanization Centre by Mr. Abu Kansangbata, the Nadowli District Chief Executive on Thursday.
Mr. Kansangbata has been visiting communities to interact with farmers to learn of their problems and challenges and also to appeal to them to stop bush burning which, he said, was hampering the implementation of the Rural Electrification Project and destroying food crops.
Naa Oraa, who is also the Chief Executive Officer of the Upper West Agro Industries Limited, said what was happening with agriculture in Ghana was all about ad hoc planning which is not enough to boost agricultural production to help reduce poverty.
Naa Oraa said time had come for the government to take data of both indigenous and improved crops and the performance of those crops in all the districts and give more support and attention to their cultivation on large scale.
He said the government should also concern itself with the provision of farm machinery and input as well as credit facilities, adding value to crops produce and find markets for the products.
Naa Oraa said if that was done, banks and other financial agencies would be prepared to support farmers in the districts to produce more for local consumption and for export.
There should also be plans to utilize crop residual either to fertilise the land or as fodder for livestock production.
Naa Oraa said the three northern regions could make head way in agriculture if realistic planning was factored into the agricultural sector and added "The Upper West, Upper East and Northern regions can boast of producing the best grains, what is needed now is to add value to the grains."
He said the three regions were only helping other regions to make money because no value was added to their produce and without value added to their produce, farmers would continue to be poor.
He suggested the cultivation of yellow maize, soyabeans and cowpea for farmers in the Nadowli District, taking into consideration the experiences of erratic rainfall pattern in the region.
Mr. Kansangbata said the government would do all that it could to improve the mechanization centres to revamp agriculture to become a new source of employment for young people.
He announced that the Nadowli District Assembly spent 20,000 Ghana Cedis to acquire five tractors to establish the centre to help farmers have access to tractor services at a moderate cost and at the appropriate time.
He said the best way of helping to reduce poverty among the people was to introduce improved seeds and the provision of farm machinery and inputs as well as credit facilities to farmers to undertake large scale farming.
Mr. Kansangbata supported the call for the decentralisation of agriculture, explaining that apart from government interventions, individual districts could also flow out proposals to donor community to support farmers with credit and machinery.
"Decentralisation of agriculture holds the key to agricultural expansion and motivation to farmers as well as higher production levels," he said.
GNA