Weatherford Eats Humble Pie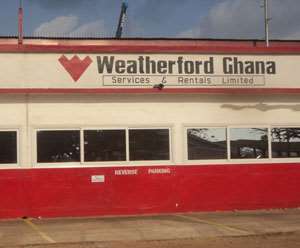 Weatherford Ghana premises
Weatherford Ghana, an oil service provider based in Takoradi, has rescinded its decision to lay off Ghanaian workers of the company.
The workers called for adjustment in their salaries and other benefits but the management of the company threatened to lay them off if they refused to negotiate.
The company has therefore appealed to the workers to resume work with the assurance that all their grievances would be addressed.
Ghanaian workers of the oil and gas service provider were locked out of their office premises by their employers early Monday morning for demanding salary adjustment and other benefits.
The workers, who staged a massive demonstration at the forecourt of the company, demanded a 25 per cent increase in their salaries and 8.6 for inflation but the management of the company offered them 16 per cent and 4.3 respectively.
They also could not fathom why management of company sacked the Human Resource (HR) Manager of the company, one Josephine Ewusi, while negotiations were ongoing for an improvement in the conditions of service of the workers.
The workers therefore resolved to embarked on an indefinite strike action and prevent the expatriates of the company from working by locking up the offices with chains.
Addressing the media in Takoradi, Francis Sallah, Western and Central Regional Industrial Relations Officer, General Transport, Petroleum and Chemical Workers Union of the Trade Union Congress (TUC), indicated that the management of the oil company had agreed to adhere to the demands of the workers.
This was after a crunch closed door meeting held between the local union chairman and some management members of the company during which a Memorandum of Understanding (MoU) was signed between the management and the local union chairman, Francis Acquaah.
He mentioned other personalities who also signed the MoU at the meeting as George Yorke, Country Director of Weatherford Ghana, Elizabeth Acquah, Western Regional Labour Officer and himself.
Mr. Sallah disclosed that the management of the oil and gas company agreed in the MoU to meet all the demands of the workers including the salary adjustment and the increment in their daily allowances.
Mr. Sallah noted that Madam Josephine Ewusi had insisted she could not work with the company anymore and that since she was being underpaid by the company, it also agreed that she should be paid the rightful salary as per the labour law up to December, this year before she leaves the company.
Mr. Sallah commended the workers for the manner in which they conducted themselves and urged them to cooperate with the management.
 From Emmanuel Opoku, Takoradi