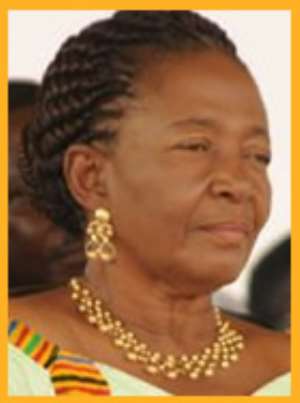 Koforidua, Dec. 1, GNA – The First Lady, Mrs Ernestina Naadu Mills on Thursday expressed the need for the bead industry to be taken seriously as an area of potential growth.
This, she said, would require the promulgation of policies aimed at supporting the creative product and the people involved in it with capital and training.
Mrs Naadu Mills was speaking at the launching of the book "Ghana: Where the Bead Speaks," in Koforidua.
Professor Ama Ata Aidoo and Esi Sutherland –Addy and Ms Kati Torda, are authors of the book.
Mrs Naadu Mills charged the Eastern Regional Minister, Dr Kwasi Akyem Apea-Kubi, to liaise with his colleague Ministers in ensuring that whatever funds has been set for cultural industries in the national budget is made available to impact on the bead industry in the region, which she described as the nerve centre for the industry.
"I also expect that those who gain new skills will hold a series of master classes for promising and talented bead makers and sellers to ensure that this precious aspect of our culture, which has so much potential in creating meaningful development in the region, is not lost."
Touching about the book, Mrs Naadu Mills commended the authors for coming out with the publication on beads which captured the beauty of the product through images, poetry and an essay in accessible language.
"This is really unique but at the same time shows that care has been taken to lift up this industry that we take for granted to the level of a well-appreciated art form."
She used the occasion to speak on the World AIDS Day, which fell on Thursday and challenged the citizenry to re-commit themselves to change their lifestyles to ensure that next year there would be significant improvement downgrading the HIV and AIDS pandemic.
Dr Apea-Kubi noted that the bead industry is a growth point in the economy of the region, which in addition gives the pleasure of enriching "our ceremonial life and that of Ghanaians far and wide".
Daasebre Dr Oti Boateng, Omanhene of New Juaben, who chaired the function, called for a beads museum in the area to promote tourism.
Prof Ata Aidoo challenged the youth to learn more about the Ghanaian culture and commended the beads makers for their efforts to promote the country's cultural heritage.
GNA