NPP urges TESCON to campaign for future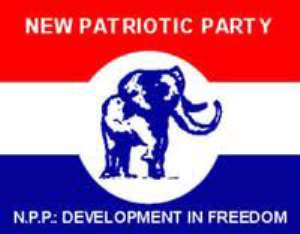 The Sunyani Nurses Training College Branch of the Tertiary Education Students Confederacy of the New Patriotic Party (TESCON) has been urged to campaign in 2012, to aid the NPP recapture power from the NDC.
Mr. Alfred Ofori Annye, Brong-Ahafo Regional Secretary of NPP gave this advice at the confederacy's handing-over and fundraising ceremony at the weekend.
According to Mr. Ofori Annye, as students, the only way to better their future was to ensure that a government with favorable economic policies is voted into power.
The NPP Brong-Ahafo Regional Secretary called on the members to be resolute, regardless of the attempt by the NDC to use money and other incentives to lure TESCON members into their fold, to win power in 2012.
Members of the Sunyani Nurses Training College (TESCON branch) had alleged that some of their members had been attracted to TEIN because the NDC has been funding their activities, and whenever TEIN organized programmes, each member is given an amount of GH¢5.00 for participating.
This, Mr. Annye noted, could be a challenge due to the economic hardship brought upon Ghanaians by the mismanagement of the economy.  He advised TESCON members not to be carried away by that highly unacceptable practice, since one can never eat his or her cake and have it.
According to Mr. Annye, TESCON members should intensify their campaign as good ambassadors of the NPP to ensure that it recaptures political power in 2012, to save Ghanaians from the current economic hardship.
He said the NDC has nothing good to prove to Ghanaians because they failed to deliver upon their manifesto, but the work of President Kufour's NPP administration clearly shows that the NPP is the best political party for Ghanaians.
The student leadership had earlier pledged to do more house-to-house campaign and medical outreach programmes in the region, to propagate the vision and objectives of the NPP.
TESCON members stated that the Brong-Ahafo is not a stronghold of the NDC, and vowed to work very hard to refute those assertions in 2012.