Ghana faces imminent danger over HIV/AIDs if... - Prof Sakyi Amoah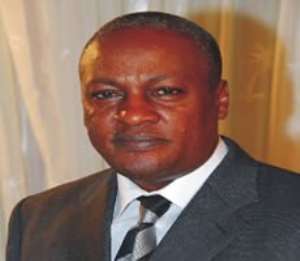 Vice-President John Mahama
A Former Director General of the Ghana AIDS Commission Prof Sakyi Awuku Amoah is warning of a looming crises in the country if the government doesn't act fast in the wake of aid cut to the fight against HIV/AIDS.
His warning comes at a time when the Global Fund which has paid for about 70 per cent of Ghana's anti-HIV campaign activities has announced withdrawing its support for the treatment of the disease by 2013 because of the global financial crises.
There are concerns the withdrawal of support could worsen the plight of people living with the disease. As world AIDs Day is observed today, Prof Amoah, who is also chairman of the Association of People Living with the disease says there will be crisis if nothing is done after the aid cut.
He says the country must look internally for funding, suggesting the establishment of a national fund to support HIV/AIDs treatment.
"That fund could be contributed to by the government itself, by private sector enterprises, individuals, philanthropists and other donor agencies," he said.
Prof. Amoah told Joy News' Fiifi Koomson that many non-governmental organizations depended on funding to organise campaigns on discrimination against persons living with HIV AIDS (PLWHIV) and that such NGOs will fold up with funding that will create some difficulties.
If urgent measures are not taken, he warned, "the gains that we have achieved till date – bringing our prevalence rate to almost 1.5 per cent may be defeated because although the epidemic has stabilized, we are still not out of the woes."
A ceremony to mark World Aids Day is being held at Obuasi where the Viice-President John Dramani Mahama is expected to announce the government's support for PLWHIV/AIDs.
Luv FM's Appiah Kusi reported from the event grounds that the Director-General of the Ghana Aids Commission, Dr Angela Edda is proposing an ambitious target of zero infection, zero discrimination against persons living with the disease and zero HIV/AIDs related deaths.
She unveiled plans to involve the youth in the fight against HIV/AIDs.