Nigerian senate votes to ban same-sex marriage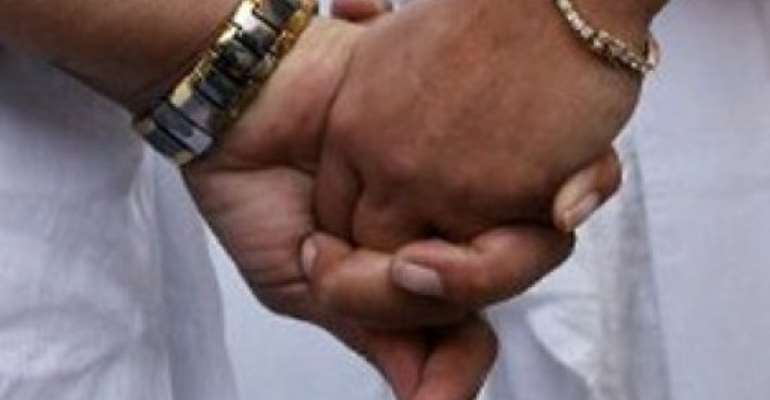 ABUJA (AFP) - Nigeria's senate passed a bill on Tuesday outlawing same-sex marriage in Africa's most populous country as well as banning public displays of affection between homosexual couples.
Approval of the bill, which still must be voted on by the House of Representatives and signed by President Goodluck Jonathan, came after debate that saw one lawmaker go as far as to suggest that offenders be killed.
The bill spells out a 14-year jail term for anyone who enters into same-sex marriages or civil unions.
Those who abet or aid such unions could receive 10 years, as would "any person who registers, operates or participates in gay clubs, societies and organisations" -- a provision that seems to target gay advocacy groups as well.
The bill also sets out a 10-year sentence for "any person who ... directly or indirectly makes public show of same sex amorous relationships."
British Prime Minister David Cameron has warned that his country will consider withholding aid from countries that do not recognise gay rights.
Senate President David Mark said during debate on the bill Tuesday that "our values are our values."
"If there is any country that does not want to give us aid or assistance just because we want to hold on to our values, that country can keep her aid and assistance," he said.
"No country has the right to interfere in the way we make our own laws, because we don't interfere in the way others make their own laws."
Senator Baba-Ahmed Yusuf Datti of the opposition Congress for Progressive Change party said during debate, in an apparent reference to same-sex couples violating the proposed law, that "such elements should be killed."
During a public hearing last month, gay activists staged a protest outside parliament calling for the bill to be dropped, saying it infringed on their fundamental human rights.
It was unclear why lawmakers decided a ban was necessary, with gay marriage not known to be prevalent in Nigeria and homosexuals already harshly discriminated against.
The west African nation is strongly religious, roughly divided between a mainly Muslim north and predominately Christian south. Islamic Sharia law is in place in 12 northern states, though it is selectively enforced.
On Tuesday, one rights activist called the bill a waste of time in a country lacking even the most basic infrastructure, including adequate electricity, despite Nigeria's status as Africa's largest oil producer.
"I can't recall a particular place where this type of marriage has taken place in Nigeria," said Adetokunbo Mumuni, director of the Socio-Economic Rights and Accountability Project.
"This particular thing they have assented to is a thing of no substance to Nigeria. They should focus on things that affect the majority of Nigerians."
South Africa is the only African country that allows same-sex marriage, but violence against openly gay people is common.
In October, four men were convicted of murdering a lesbian in the South African city of Cape Town in a case that dragged on for five years and heightened concerns about "corrective rape" targeting gay women supposedly to "cure" their homosexuality.
In the east African nation of Uganda, a controversial bill that calls for the death penalty for certain homosexual acts was recently reintroduced in the parliament.