Research proposals must correspond to present day food security needs - Ahwoi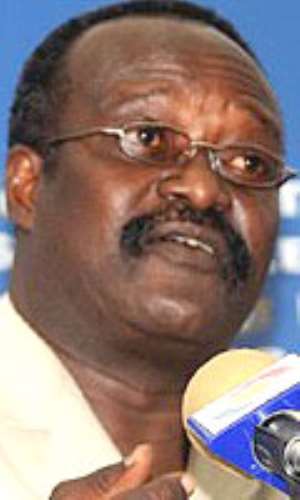 Mr. Kwesi Ahwoi, Agriculture Minister
Mr Kwesi Ahwoi, Minister of Food and Agriculture (MOFA), has urged research institutions to design research proposals that would deal with the country's present day needs  in food security and income growth in a globally competitive world.
He said the researchers had the responsibility to come out with medium and long term research results that answered the challenges of persisting low productivity along the value chain, to ensure sustainable growth in agriculture.
In a speech read on his behalf, at the opening of the second National Farmers' Forum of the 27th National Farmers' Day organised in Accra, Mr Ahwoi said research along the value chain to improve production, processing, storage and marketing was very critical.
The event, instituted last year as part of the National Farmers' Day Celebration was to brainstorm ways of accessing credit for agricultural financings, adding value to agricultural commodities for sustained agriculture, and how to use research to sustain agricultural development.
It was sponsored by the Agricultural Development Bank, Ghana Cocoa Board, Wienco and Yara, two agro-based companies on the theme: 'Grow More Food: Research for Sustainable Agriculture Development.'
Mr Ahwoi said the agriculture sector is key to the overall economic development and the growth of the country and it is expected in the national development agenda to lead the structural transformation of the economy and maximise the benefit of accelerated growth.
He said the theme underlined the importance of research in the development of agriculture and areas in which research was required to achieve stated goals including efficient food production, quality improvement, processing and marketing.
The Minister said research needed to be undertaken along the whole value chain to enhance production, minimise post harvest losses and make the produce presentable and attractive to the consumer.
'It is generally agreed that the efficient application of agriculture research is one of the primary means of accelerating the growth rate of agricultural development in developing countries.
'The future of agricultural development therefore depends to a larger extent on the research activities that are undertaken and the application of new discoveries to improve production.  These in turn are dependent on the financial resources which Government and other stakeholders both public and private are prepared to invest in research,' he said.
Mr Ahwoi said the general performance of the agricultural sector was relative to other sectors, since 2000 showed that the sector had continued to be the largest contributor to the country's Gross Domestic Product, though service sector was fast growing.
He noted that the overall percentage increase in cultivated areas between 2000 and 2010 was about 25 per cent, though recent studies had suggested that most agricultural growth had been mainly due to land area expansion as opposed to yield increase.
Mr Ahwoi said only research and introduction of high yielding varieties of crops would reverse the trend. Source: GNA.