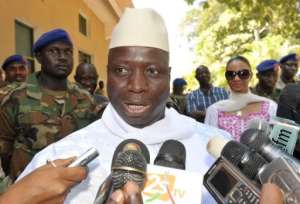 Yahya Jammeh's regime has been criticised for human rights violatons. By Seyllou (AFP)
DAKAR (AFP) - The Committee for the Protection of Journalists said Tuesday that it was "appalled" by veiled warnings made against the Gambian press by newly re-elected President Yahya Jammeh.
On election day last Thursday, Jammeh -- whose regime has been widely criticised for human rights violations and attacks on press freedom -- spoke out against journalists who he said made up less than one percent of the population.
"If anyone expects me to let one percent of the population destroy 99 percent of the population, they can think again," he said.
CPJ Africa Advocacy Coordinator Mohamed Keita said: "We are appalled by President Yahya Jammeh's use of scornful and contemptuous language to publicly intimidate the weakened Gambian media into further self-censorship while offering Gambians a false choice between press freedom and development".
"Jammeh must immediately retract these statements, which endanger journalists in a country where attacks on media houses and murders of journalists remain unpunished," he said in statement from the New York-based group.
The election in Gambia took place in the absence of observers from the Economic Community of West African States (ECOWAS), which usually sends monitors to polls in member countries.
But ECOWAS issued a statement criticising "intimidation, an unacceptable level of control of the electronic media by the party in power, the lack of neutrality of state and para-statal institutions, and an opposition and electorate cowed by repression and intimidation".
Jammeh, who first came to power in a coup in 1994, was re-elected for a fourth five-year mandate with 72 percent of the votes, according to official results.