Violence does not bring development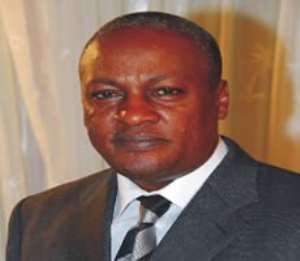 Vice-President John Dramani Mahama
The Vice-President, John Mahama, has advised Ghanaians against allowing their differences of opinion and diversity of thoughts to plunge the nation into violence in the 2012 general election, because violence does not bring development.
He has, rather urged the various political parties and their followers, to strive for peace and work in unity and cohesion before, during and after the polls.
The Vice-President made the appeal at Somanya in the Eastern Region on Saturday at the durbar to mark the 'Kloyosikplemi' festival of the chiefs and people of the Yilo Krobo traditional area.
Reminding Ghanaians of the fate that befell countries like Liberia, Sierra Leone and Rwanda, Vice-President Mahama stressed that violence was destructive and never engendered peace and development.
Consequently he said it was necessary that political parties and their followers resorted to consensus building and dialogue rather than beating war drums, which would not inure to the benefit of anybody, in the long run.
'K1oyosikplemi, is an annual event celebrated by the Krobos as part of activities marking the outdooring of virgin maidens (Dipoyei), who have undergone the rites of puberty at the hands of older women.
The festival which also serves as a rallying point for citizens of the area to interact and forge ahead with the development of the traditional area, brought together Ministers of State, Parliamentarians, traditional rulers and some tourists.
It was characterised by a colourful traditional dance by the maiden, and the firing of muskets by the Asafo (warrior) companies.
Mr. Mahama stated that the government was mindful of the plight of Ghanaians in deprived districts, hence, programmes like the distribution of free uniforms and exercise books to pupils, the increase in the capitation grant, and expansion of the school feeding programme to ease the financial burdens of parents and guardians.
Ghana, he said, had made giant strides in education, life expectancy and gross national income, according to the latest Human Development report. But despite the achievements, there was more work to be done.
He assured that more investment would be made in health care delivery and education, through the District Assembly Common Fund and the GET Fund.
Vice-President Mahama catalogued the development projects in Somanya and its environs as including the construction of steel bridges, enhancement in the road network, and construction of six and 12-unit classroom.