Tamale Savelugu highway accident toll now 28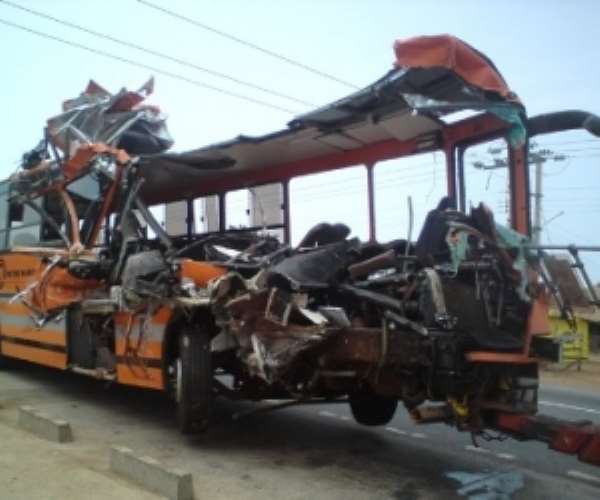 Tamale, Nov. 29, GNA - The death toll from the accident that happened on Saturday on the Tamale/Savelugu highway has now officially been put at 28.
The dead are made up of 19 men, five women and four children, with 48 people treated and discharged while 14 people are still on admission at the Tamale Teaching Hospital.
Six bodies are yet to be identified and collected by their relations, Mr Thomas Bismarck Boakye, Regional Manager of the National Road Safety Commission in-charge of the Northern and Upper East regions, told journalists in Tamale on Monday.
Mr Boakye attributed the cause of the accident to overloading, over speeding and the refusal of the drivers of both vehicles to adhere to road safety regulations.
He said the driver of the Metro Mass Transit Bus did not follow road signs, did not slow down at the rumble strips and should have slowed down in a curve.
He said on the other hand the driver of the Benz bus was tired and handed over the vehicle to the mate.
Mr Boakye said one major cause of accidents in the Northern Region was overloading and called on the leadership of the Ghana Private Road Transport Union (GPRTU) to put in measures to check it.
He also requested the Driver and Vehicles Licensing Authority (DVLA) to re-examine all Benz buses to ensure that those not road worthy are banned from plying the roads.
He also appealed to the authorities of the metro mass transit buses to organize courses for their drivers to upgrade their knowledge and skills to enable them to drive more professionally.
GNA