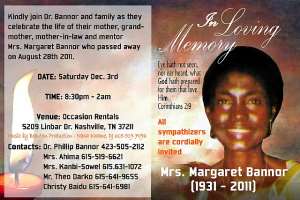 Dear Friends,
On behalf of Dr. Bannor and the entire Bannor Family, we want to invite all friends and well wishers to join us in the Celebration of the Life of our dear Mother, Ssiter, Aunte, a Friend and Grandmother - Madam Margaret Bannor aka OBAA PA (Date of Birth -1935-2011), who died on August 28th, 2011 at Obuasi AGC Hospital,
Venue: Occasions Rental
5209 Linbar Drive
Nashville, TN 37211.
Date: Saturday, December 3rd, 2011,
Time: 8:30 PM - 4:OO AM.
Attire: Black and White
Officiating Minster's: Rev Boadi and Pastor Asante
Contacts:
1. Dr. Philip Y. Bannor 423-505-2112
2. Mr. Kwame Ahima 615-519-7096
3. Mrs. Justina Ahima 615-519-6621
4. Mrs. Cecilia Kambi-Sowell 615-631-1072
5. Mr. Theo Darko 615-641-9655
6. Mrs. Christy Baidoo 615-641-6981
All are Cordially Invited !!!