PHC Unveils Range Rover Evoque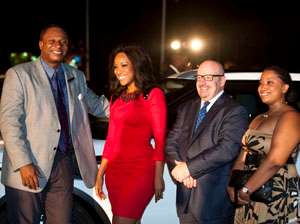 Mr Paul K Pepera poses with Jocelyn Dumas( face of the new Rover Evoque) and some dignitaries at the launching)
PHC Motors Limited has outdoored the newest brand of the Ranger Rover brands at an exclusive programme in Accra, attracting the crème-de-la-crème in society.
The all new range Rover Evoque, is smaller, lighter, and the most efficient ever with a true compact form that comes in two distinct body styles.
Range Rover Evoque Coupe, with the compact three door premium crossover with its sleek striking coupe and design and a more practical profile to suit specific lifestyle needs while the Range Rover Evoque with the five door version adds to the most fuel efficient range of cars.  
Guests at the British High Commissioner's residence where the new range of cars were unveiled, were held spell-bound in a 30 minutes display of the vehicle with an altogether different spirit.
The luxury and lifestyle vehicle is the newest to join the rest of the Land Rover and Range Rover vehicles made up of Range Rover Vogue edition, Range Rover Sport, Discovery, Freelander and the rugged Defender.
Paul Kwabena Pepera, Managing Director of PHC Motors, in an interview, stated that the new car is a quantum leap in the evolution of Range Rover design.
The vehicle, he explained, provides an engaging blend of dynamic and sporty handling with impressive refinement.
'This car can go anywhere, it is comfortable and fuel economizing,' he said, adding that 'the Range Rover Evoque masters all surfaces and all weathers'.
Because the manufactures are environmentally conscious, he said CO2 emissions have been kept to the barest minimum.
The car is on display at any PHC showroom and it is being sold at $70,000.
'This is not a car that is cheap but we assure you of value for money. It has lots of features,' said Mr Pepera who assured the public of a good credit term of payments suitable for every pocket.
'I will advice anyone who is interested to come to our showroom and we will arrange a tailor-made package for them.'
The British High Commissioner to Ghana, Peter Jones hinted that PHC Motors is the first to launch the Evoque in Sub-Saharan Africa.
'This is testament to the high volume of land Rover Discoveries and Range Rovers sold in Ghana; 120 of these high value vehicles have been sold in the last two years.'
He added that 'it's great to see such an iconic and special British product doing so well here.'
The Evoque, he said, 'is the most exciting vehicle of this generation. With clever technology that's innovative, relevant and always intuitive to use.'
PHC Motors Limited has been at the heart of the motor industry in Ghana since 1968 and has over the years operated under the names of Leyland Motors, Leyland Daf and Land Rover Ghana.
In the year 2010, Land Rover returned to PHC Motors due to TATA's purchase of Land Rover from Ford.
By Emelia Ennin Abbey