DR Congo votes after campaign marred by violence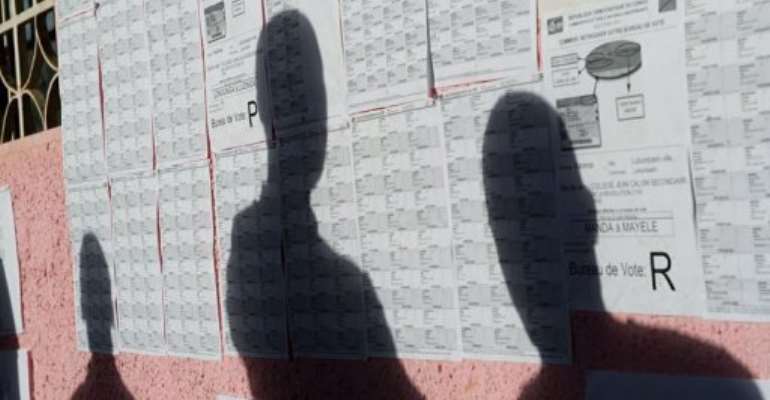 LUBUMBASHI, DR Congo (AFP) - The Democratic Republic of Congo held national elections Monday after a campaign marred by violence, including clashes Saturday in which at least two people died.
Voting officially began in the east of the country at 6:00 am (0400 GMT), and was due to start in the country's western time zone an hour later.
At the Imara school complex in Lubumbashi, in the southeastern province of Katanga, voting began at 6:02 am with polling station staff casting their ballots as about a dozen voters waited outside, an AFP correspondent said.
At the nearby Jean Calvin school on the other hand, poll workers were still waiting for ballot boxes, voting booths and ballots.
"We've been here since 5:00 am, but for the moment we haven't received anything," polling station chief Jean-Clement Tshibangu told AFP.
Logistical headaches in organising the vote in a country two-thirds the size of western Europe -- and whose roads network is crumbling and limited after seven years of back-to-back wars and decades of under-development -- had raised fears the polls could be delayed.
The election commission had to bring in 81 aircraft to deliver 64 million ballot papers to some 64,000 polling stations across the country, in a process plagued by delays.
Incumbent President Joseph Kabila, 40, in power since 2001, is tipped to win a new five-year term running for the ruling People's Party for Reconstruction and Democracy (PPRD) against a divided opposition field of 10 challengers.
His main rival is veteran opposition leader Etienne Tshisekedi, 78, running for the Union for Democracy and Social Progress (UDPS).
The two men's supporters have clashed several times in the run-up to the vote.
The last day of campaigning Saturday descended into chaos as police banned all rallies. They used teargas, water cannons and live ammunition to disperse Tshisekedi's supporters.
At least two people died in the unrest, though the exact circumstances were unclear. The campaign violence has drawn condemnation and calls for calm from the international community.
Lubumbashi had been a flash-point of political violence in the run-up to the elections.
Earlier this month, two days of street fights between opposition and government supporters shut down parts of the city, as banks and other businesses closed amid unrest in which shop windows were shattered and pedestrians mugged.
The run-up to the vote also saw allegations of fraud against the Independent National Electoral Commission (CENI), from opposition charges of "fictitious" polling stations to a leaked report by a consulting firm that said there were tens of thousands of ghost voters on the rolls.
The elections are just the second since back-to-back wars from 1996 to 2003 in a country that remains one of the least developed in the world despite a wealth of cobalt, copper, diamonds and gold.
The central African giant has 32 million registered voters.
Provisional results of the presidential race are due December 6, while national assembly results are due January 13.