C/ R CPP unhappy with conditions for the elections of Presidential candidate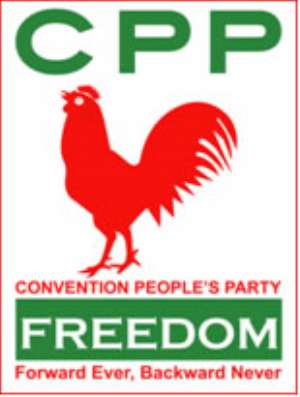 Cape Coast Nov. 27, GNA- The Central Regional Branch Executives of the Convention People's Party (CPP) on Friday criticised the party's national leadership for tying the election of a flagbearer to seven conditions which are "unacceptable".
The members pointed out that though they appreciated the effort of the national leadership at explaining some of issues on the state of the party, the conditions for the election of a flag bearer outlined in a memo released recently will negatively affect the fortunes of the flag bearer, the parliamentary candidates and the party in the 2012 general elections.
The MEMO on the state of the party issued to them indicated that before the Party can go to congress to elect its presidential candidate and open nomination for parliamentary aspirants, seven conditions; the launching of a membership drive, the development of party paraphernalia and creation of vision, begin polling station organization, strengthen the party at all levels, open offices in all constituencies and regions, carry out regional congress and solve legal disputes as well as raise money in the name of the party and for the party, must be met.
Mr Kwame Edu Ansah, Regional Chairman, expressed the sentiments at the regional executive meeting held in Cape Coast to discuss the "state of the party MEMO" issued to all constituencies by the General Secretary of the Party.
He expressed his misgivings on the way rather sensitive issues of flag bearer ship was being bandied about on the airwaves by the National Executives whiles the regional executives could not explain things satisfactory to the rank and file of the Party..
Mr Ansah described "these conditions" as vague expressions stressing that if anything at all, it would rather enhance their efforts at re-organization and that "who would want to donate money to a party that is not interested in winning the presidency"
In a four point resolution, Mr Ansah said the Central Regional executive committees of the Party have resolved that the leadership should not give out information on sensitive issues to the media until it has informed the regional leadership.
The regional chairman also pointed out that the flagbearership elections be held latest by December 31, 2011 as per the decision of the National Executive Council and that all should bear in mind always that the Party was supreme.
Mr Ansah said the regional executives were not at loggerheads with the National leadership but that they wanted the national executives to come out with clear answers so that the Party could go to congress before the end of December.
GNA