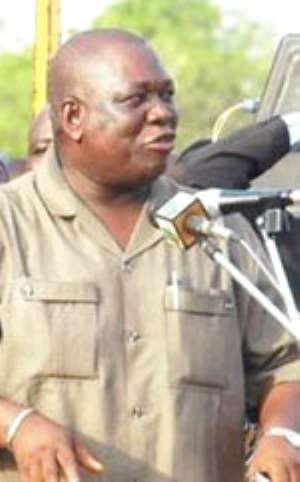 Moses Mabengba, Northern Reg. MinisterMoses Mabengba, Northern Reg. Minister
It seems the feud between the Andanis and Abudus has no end in sight, as each passing day, the fracas between these two gates continues to heighten.
Information available to The Chronicle indicates that the Abudus are not happy with current emerging evidence, which suggests that there are attempts by some people to enskin a new Savelugu-Na, after the funeral of the late occupant of the throne.
Worried about this trend of events, the Abudus, through their new solicitors, Yaanom Chambers, issued a warning to the Regent of Dagbon, Kampa Kuya-Naa Abdulai, in a letter dated November 23, 2011, not to authorise the enskinment of a new Savelugu-Na, since there was an impending court case between the two factions (Abudus and Andanis), which was yet to be settled.
A portion of the said letter read: 'As the new Solicitors for the Plaintiffs-Appellants in the above cause, we have to inform you that with the pendency of the appeal against the decision of the High Court, Kumasi, dated 26 th November, 2010, the original chieftaincy suit is very much alive, and it is our prayer that nothing would be done during or after the funeral rites of the Savelugu-Na, which would tend to bring the authority and administration of the law into disrespect, or interfere with the pending litigation.'
'Information available at our end discloses that a substantive Savalugu-Na would be enskinned upon the funeral of the late Savelugu-Na. We have great respect for your high office of Regent of Dagbon, and it is for this reason that we, with humility, are warning you not to authorise the enskinment of a new Savelugu-Na pending the final determination of the suit. We shall not hesitate to initiate contempt proceedings against you, Sir, and any other person or persons who would embark on any course of conduct which would prejudice the fair hearing of the pending appeal,' it further stated.
Copies of the said letter were served to the Regional Security Council, Regional Administration, Tamale, District Commander, Ghana Police Service Savelugu, District Commander, Ghana Police Service Yendi, and the Registrar, Court of Appeal, Kumasi.
The aim according to the appellants is to put the security agencies on the alert 'to abort any intended enskinment, which would amount to the violation of the Public Order Act.'