Ashaley Botwe School receives support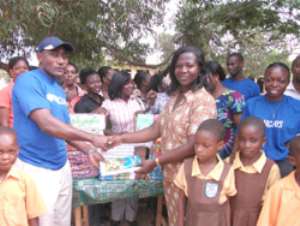 THE NII Sowa Din Primary Block A   & B School at Ashaley Botwe in   the Adentan Municipal Assembly, has received a donation of reading books to equip the school library, and help improve the reading capabilities of the pupils.
The donation, which included exercise books, pencils, sharpeners, drinks and biscuits for Primary One pupils, amounted to #500, which was provided by the Internal Control Rigour Department of the Barclays Bank Head Office in Accra.
Giving the donation last Thursday at the school, the Risk and Governance Manager of the Department, Mr. Prosper Ahey, said the donation was part of the bank's annual 'Make A Difference Day (MADD)' activity, as part of the company's corporate social responsibility.
According to him, 'as an organisation, we give back to society what society has given to us, and this is just a gesture to express our appreciation to the society, and we have adopted this school as a unit, and we will continue to donate to the school on a yearly basis.'
He explained that every year, all the bank's departments were given money to carry out projects, and his department adopted the Nii Sowa Din School, because it was one of the deprived public schools in the Adentan Municipality.
He recalled that last year when his team painted the school, they realised that some of the classes did not have adequate reading books, while some of the pupils also did not have exercise books to write in during school hours.
Thus, 'we came to stock their library with basic readers, and fraternise with them on how to read, as part of promoting literacy among children at a tender age, so that they will grow up as people who appreciate reading,' he added.
The Headmistress of the School, Mrs. Alice Obeng-Amoako, thanked the Barclays team for their support, and asked that next year they would like another consignment of books to stock their library, and also more exercise books, because many parents had difficulty buying books for their wards.
She explained that because some parents and guardians did not buy books for their kids, it was difficult to give pupils home assignments, and even for some of them to work in class, saying, 'As at now, most of them don't have exercise books, so they don't write.'
She recalled that just the previous week, a parent came to the school to question one of the teachers as to why she was not giving her ward assignments to do at home, lamenting, 'she has not bought books for her child, but she wants the child to bring assignments home!'
She said, 'We appreciate what you have done. Last year, you did a great job, and this year too you have remembered us, so we say, thank you very much, but as Oliver, we are still asking for more books, when the time is due next year.'
Also, she appealed to the government, organisations, and individuals to support the school, especially, to complete the two-storey classroom block under construction, to abolish the shift system the school was currently running.
According to her, the shift system was impeding academic work, because the first stream often closed at 12:00 p.m., when usually, they were not done with the day's activities, just to make way for the other stream.
She, therefore, urged the government to provide funds to the contractor to speed up the construction work, and to redeem its promise to provide exercise books, the last of which was received two years ago, stressing, 'the whole of last academic year, and this year, we have received nothing.'
Pix: (top) The Risk and Governance Manager, Mr. Prosper Ahey, presenting the books to Headmistress of the School, Mrs. Alice Obeng-Amoako