Gambia's Jammeh re-elected with 72% of votes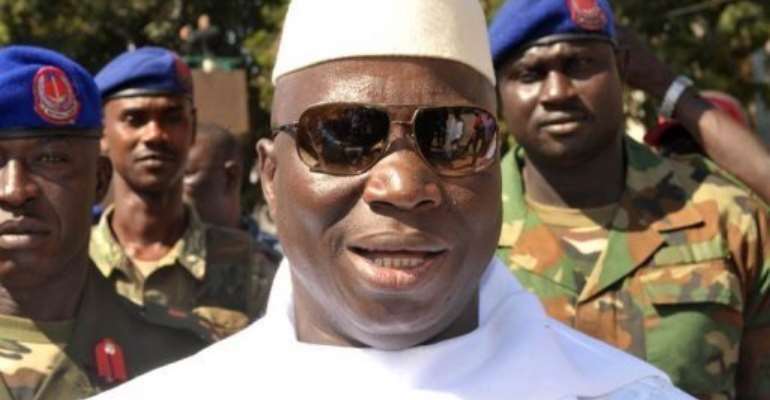 BANJUL (AFP) - Gambian President Yahya Jammeh has been re-elected to serve a fourth term in office after winning a landslide 72 percent of votes in the tiny African state's polls, organisers said on Friday.
"I hereby declare President Jammeh the winner of the 2011 presidential election," said electoral commission chief Mustapha Carayol after announcing the final results in which the incumbent's challenger, Ousainou Darboe, won 17 percent of votes. Voter turnout was 83 percent.
Observers said the election was flawed due to voter intimidation and state control of the media.
Polling officials worked hard tallying the glass marbles used to vote due to a high-rate of illiteracy in the tiny tropical African state.
Jammeh, 46, who has ruled the smallest state on mainland Africa since seizing power in a 1994 military coup, has said his win is a foregone conclusion. He won 2006 polls with 67.33 percent of the votes.
"Do I look like a loser? There is no way that I can lose unless you tell me that Gambians are mad," Jammeh told journalists after voting on Thursday.
"Gambians are development-oriented people and they know I can deliver. In 17 years I have delivered more than the British were able to deliver in 400 years."
Observers from the main west African bloc boycotted the polls, saying Jammeh's control of the media and intimidation of voters meant the election could not be free, fair and transparent.
The 15-nation Economic Community of West African States (ECOWAS) reported "an unacceptable level of control of the electronic media by the party in power ... and an opposition and electorate cowed by repression and intimidation."
The regime of the man who says he can cure AIDS is often pilloried for human rights abuses, enforced disappearances, extra-judicial killings, torture and the muzzling of journalists -- many of whom have fled the country fearing for their lives.
Jammeh has woven an aura of mysticism around himself. He dresses in billowing white robes, never lets go of his Koran and brooks no dissent, heaping derision on criticism from the West.
"No Western country can tell me anything about democracy. In this country, we fear only God and I don't care what anybody says."
Rights bodies have documented the deaths and disappearances of high-profile journalists in the country. Jammeh said Thursday journalists are "free to write what you like, but you should be ready to be accountable.
"Somebody said that this country is a hell for journalists, well there are freedoms and there are responsibilities. Being a journalist does not mean license to kill. Character assassination will not be accepted."
He has also threatened to "cut off the head" of homosexuals and has threatened the lives of human rights defenders.
Despite the criticism, Jammeh has overseen strong economic growth, which is set to reach 5.5 percent in 2011, and construction of roads, schools and hospitals.
"School, no teachers. Hospitals, no doctors," laughed a young electrician bitterly after voting closed. "What use is that?"
Poverty is widespread, with 67 percent of the population living on less than $1.25 a day and regions shown not to vote for Jammeh are often isolated, and cut out of development efforts.
A snake-shaped sliver of land wedged into Senegal, Gambia survives mostly off tourism, luring sun-worshipping Europeans to its sweeping, palm-fringed coastline.
Gambians voted with clear glass marbles which they cast into a coloured drum representing their chosen candidate. Polling officials pour the marbles into wooden counting trays with either 200 or 500 holes to tally results.