C'ttee Replies Finance Ministry. Over Income Tax Threshold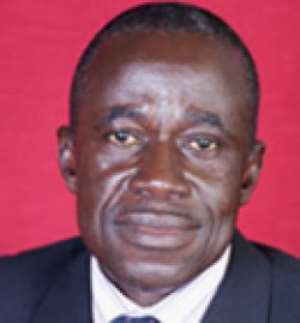 Kwame Osei-Prempeh
THE CHAIRMAN of the Parliamentary Committee on Subsidiary Legislation, Kwame Osei-Prempeh, has debunked claims by the Ministry of Finance and Economic Planning that Ghanaian income earners were overtaxed because parliament failed to approve the 2011 income tax threshold for taxation.
Dr. Larbi Siaw of the Tax Policy Unit of the Ministry had disclosed at a post budget workshop for Parliamentary Press Corps on Monday that income earners in the country had been overtaxed by 19 percent this year because Parliament had failed to approve the 2011 income threshold.
He said although government had raised the threshold from 1,008 in 2010 to 1,200 in 2011, Parliament failed to approve the new figure, making government to tax income earners based on the 2010 threshold of 1,008.
Government, Dr. Siaw indicated, had now increased the threshold to 1,440 for 2012 to compensate for the apparent over taxation, as well as reduce the burden of income earners in the country.
However, speaking in an interview with the CITY AND BUSINESS GUIDE , the Chairman of the subsidiary legislation, Mr. Osei-Prempeh, said Parliament could not be blamed for the non-approval of the threshold.
'Anybody who said so was being unfair to Parliament to cover their own inefficiencies and incompetence', the subsidiary legislation chairman stressed.
Mr. Osei-Prempeh, who is also the MP for Nsuta-Kwamang Beposo, explained that when the 2011 budget was presented to Parliament in November last year, the Ministry of Finance and Economic Planning indicated that the tax threshold was going to change.
However, it was not until August 24, 2011 that the Ministry laid an LI (Legislative Instrument) in the House for the approval of the new threshold.
'The LI was referred by Madam Speaker to the Subsidiary Legislation Committee, of which I am the Chairman', Mr. Osei-Prempeh pointed out, adding that 'As with every LI, it was supposed to be laid in the House for 21 sitting days, so when parliament resumed, the Committee met with the Commissioner General of the Ghana Revenue Authority and his team at Koforidua and worked on it'.
The LI, he further explained, matured yesterday, November 24, 2011and therefore it was unfortunate that anyone would say that parliament failed to approve it.
'The question is how come that the Ministry of Finance, which announced the new threshold, waited until January to August to bring an LI', Mr. Osei-Prempeh quizzed, stressing that Parliament had been recalled from recess in July under a certificate of emergency and  the LI was laid a day to the end of the recall.
'Therefore, the Ministry of Finance and government for that matter did not intend that income earners should benefit from the new threshold', he noted, emphasising that if the they wanted the people to benefit from the tax reliefs, they would not have waited for the 2012 budget to be read before talking about its implementation.
By Awudu Mahama