Anyidoho Confesses I Spoke For Mills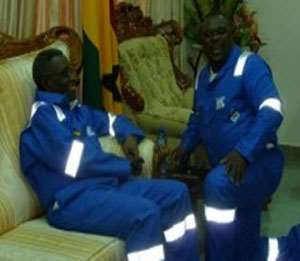 President Atta Mills with Koku Anyidoho
Koku Anyidoho, Director of Communications at the Castle, has said that President Evans Atta Mills asked him to issue the recent threat against the New Patriotic Party (NPP) flagbearer, Nana Addo Dankwa Akufo-Addo, that he would deal with him ruthlessly.
Speaking on an Accra-based radio station, Asempa FM , from the United States yesterday, Koku said, 'The interview they are playing in Ghana. I made that interview about two weeks ago on Radio Focus (London) after Mac Manu had gone and said on that same network that they were going to arm their people with guns.
 'And the point the president is making through me is that, let them dare, let them dare, let them dare,' he said.
Koku said President Mills was not afraid of accepting defeat. 'If in 2012 Ghanaians vote against President Mills, President Mills will not be worried. And all of us will step aside…the Koku Anyidohos, the Fiifi Kweteys, the Elvis Ankrahs, the Baba Jamals, the Okudzetos, everybody will step aside because that is the will and the wish of Ghanaians. But for someone to stand somewhere and say that Ghana belongs to him so all die be die, at all cost he shall be president…it will not happen, it will not happen and President Mills will protect the sanctity and the territorial integrity of Ghana.
'And the likes of Kennedy Agyepong… what are they talking about?…there will be no Rwanda, there will be no Afghanistan, and Ghana will remain strong  and nobody will take away what we have as Ghanaians… let Akufo-Addo dare, let him dare and let him dare,' he warned again.
The President, in recent times, has been warning trouble makers without mentioning names.
But Koku said all along, President Mills's warnings were directed at Nana Akufo-Addo for his 'all die be die' comment.
NPP MP for Assin North, Kennedy Agyapong, had earlier said President Atta Mills was hiding behind Koku to make the damning statement threatening the main opposition leader.
He said President Mills behaved hypocritically when it came to issues concerning threatening and violent political language.
'If he really means peace and as he claims everywhere that he is for peace, he has to condemn his guards. .. President Mills should come out clean. He hides behind these boys… he is as wicked as anybody. Nobody should believe him,' Mr Agyapong charged.
He called those asking for his arrest by the BNI as 'fools'. He, however, singled out Alfred Woyome, who claimed to be a financier of the party, as a 'stupid fool' for daring to call for his arrest.
Ken said rather, President Mills should be arrested first.
He said it was time to tell the NDC to the face what Ghanaians thought of them.
Alfred Woyome had called on the BNI to arrest Agyapong for allegedly causing fear and panic.
Ken Agyapong had on Wednesday issued a stern warning on Citi FM  to the NDC, saying if the party did not abandon plans to rig the 2012 elections, there would be trouble in Ghana.
'If we don't have peaceful elections in this country and Koku Anyidoho thinks he can use the military, the macho men to intimidate and rig elections, Ghana would not be like Kenya, Ghana would be like Rwanda…We want peace, nobody wants to fight in this country…but an eye for an eye, a tooth for a tooth…this time we would not sit down for NDC to intimidate anybody, if they hit one we would hit three,' the Assin North MP charged.
'Mills was the first to predict Ghana would turn into Kenya…You know what happened in Kenya? There was bloodshed, so if a so-called Christian should say that Ghana will turn like Kenya, what does he mean?' the NPP strongman asked.
Leading members of the party who are serving under the Mills administration, including Elvis Afriyie Ankrah, a Deputy Minister of Local Government and Rural Development, his colleague at the Interior Ministry, Kobby Acheampong and the loud-mouth Chief Executive Officer of the Ghana Free Zones Board (GFZB), Kojo Twum Boafo, said the NDC was battle ready to face the NPP boot-for-boot.
This was when all the three individuals called into Accra-based Radio Gold's morning show to vent their spleen on the reactions that had greeted the recent threat by Koku to deal with Nana Akufo-Addo.
Afriyie Ankrah, who claimed to be speaking in his capacity as former Deputy General Secretary of the NDC in Charge of Operations, asked members of his party not to feel intimidated by what he described as 'the buffoonery of the NPP.'
'I repeat, they will be crushed if they make any wrong move; they will be dealt with strongly and ruthlessly according to the laws of this land,' he said, warning, 'Let nobody take the humility and silence and quietness of the President for granted….'
'If they dare do anything that will bring instability to this country, believe me; they should wait for what is coming. They should try it and see.'
Moments later, Afriyie Ankrah called into the programme, saying, 'In the midst of that when your people are under pressure, psychologically they are confused; you need to send back words that would send a signal that indeed you are ready to deal with such foolishness then you would be able to now educate your people. 
'So there is a time that you should respond strongly and firmly with words to these kinds of things. We cannot go on, they are threatening us continuously and then we sit down and say you are going to educate.
'We were in the thick and thin of the battle, we faced bullets, we know what is going on so we are speaking from a position of knowledge.'
Though he quoted a portion of the Bible, saying, 'There is time for everything,' the Deputy Minister added that 'but there is also a time to rebuff such buffoonery and foolishness…words have an effect in the physical and spiritual realm. Even Jesus Christ, the son of God, humblest of men; at a point he had to use strong words to rebuke the Pharisees, the Sadducees and the Scribes.'
'In 2008, they brought in thugs from various countries, they dressed them as policemen; I'm speaking with authority, they gave them guns, they went round beating people, maiming people in Ashanti, Volta region. We have documentary evidence and yet in spite of the fact that they had the security services at their disposal, police, military, machomen and all that, with courage and determination, we were able to beat them to their game.'
Twum Boafo said,  'I don't even think Koku Anyidoho even went far enough and, in fact, for me, I am very very relieved that something is finally coming from the Presidency that is letting the  NPP know that Ampadu sang a song that 'woyoo woyo, wo pe wo wuo wo be nya'.'
Mr Boafo, who claimed to be speaking on behalf of members of his party noted, 'We are ready, they should bring it on. We are fed up.'
'If the NPP…wants to die, they will get it because nobody is going to hand over power to Nana Akufo-Addo on a silver platter.'
He accused the NPP of continuous threat of bloodshed and mayhem, 'but what they should be aware of is that the people who invented the guillotine were themselves guillotined'.
'If they don't know about the history of warfare, they should go and read about the French revolution.
'So if they want to cause mayhem and disorder in this country because one man must be President of this country at all cost…and when they do, whatever they want to do they should bring it on because the security services of this country will not tolerate any of that behaviour.'
On his part, Deputy Interior Minister Kobby Acheampong said, 'If Koku is saying he should dare, he is right because we are privy to some of this information and we are telling them, especially Kennedy Ohene Agyepong, the last elections cycle he threatened former President Rawlings. This time around, he should be very careful in what he utters because eyes are watching. I will leave them with a single message 'where eagles dare, they should not joke.' '         
He explained, 'I'm saying with all the calmness that I can muster, they are in the wrong business because, look we pick up signals all the time; currently all the moves they are making with the current crop of Ivorian refugees who are in Ghana is being monitored closely.'
'All these threats should begin to cease because at the end of the day, if they are able to carry out some of these threats even in the minutest of forms, Ghanaians will suffer for it and therefore I'm sending a clear note of caution to members of the NPP, their flagbearer, their National Chairman, Mac Manu, Nana Akomea, Lord Commey, Moctar Bamba, Anthony Karbo…all those guys who think issuing threats is the way to go. I'm sorry to say they are in the wrong business,' he warned.
By Charles Takyi-Boadu & Cephas Larbi