1,500 Enjoy Free Surgeries. From US Team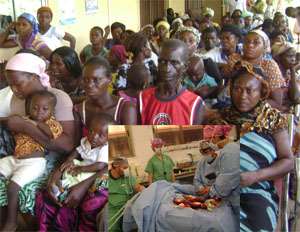 Expectant community people waiting for their turn to receive medical care. Inset: The medical team doing an internal fixation for a 5-year-old boy
OVER 1,500 residents of Asunafo South and North districts in the Brong Ahafo region have received free intensive medical care from a US-based medical team that was in the country at the invitation of the Member of Parliament for Asunafo South, George Yaw Boakye.
More than 50 others underwent various expensive surgeries ranging from fibroid, hernia, orthopedic and gynecology to plastic surgery among others.
The 46-member medical team made up of doctors, nurses and volunteers from the Humanitarian Aid Relief Team (HART), a multifaceted group of volunteers and professionals committed to improving the quality of life through Healthcare Supercharging based at Utah in the US, was led by Dr Kimball Crofts, a plastic surgeon.
They spent seven days at the various health centers in both districts such as the Goaso Municipal Hospital, Star of Light Hospital at Sankore, Abuom Health Centre, 1000 Acres Cocoa Clinic and the Kukuom Health Centre, where they rendered valuable medical services to the people mostly poor farmers, women and children.
According to the team, they brought all the surgical instruments, equipment and other supplies from the US to undertake the   surgeries.
Speaking to DAILY GUIDE , the MP for the area and brainchild of the exercise, George Yaw Boakye, said he was touched by the plight of his people most of whom are farmers who cannot afford to pay huge hospital bills to deal with their health conditions.
Mr. Boakye stated that as the representative of the people who is committed to their health, he will continue to embark on programmes and interventions that will address the health needs of his constituents.
'Our main aim of bringing the medical team here is to help the disadvantaged and we have achieved that looking at the huge number of people who have received various health care services within the period,' he said.
The MP noted that he has now become an associate member of HART since he started liaising with the group about five years ago, all in the interest of his people.
Some of the beneficiaries who spoke to DAILY GUIDE expressed their heartfelt appreciation to their MP for his good initiatives which brought the medical team to the area.
They said some chronic diseases which they had been battling with for some years now have been taken care of through the surgeries.
The people therefore called for regular visits from the team in order to secure their good health and long life.
 From Fred Tettey Alarti-Amoako, Sankore