Ayariga wants quick fix to Bolga-Bawku road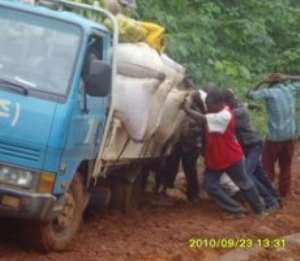 A library photo of a badly damaged road
It seems a bad portion of the Bolga-Bawku road, is giving armed robbers good business. They have taken advantage of the situation to waylay travelers and rob them of their valuables.
Armed men suspected to be Fulani herdsmen Wednesday attacked the District Chief Executive of Garu-Tempane David Ada-kudugu and other passengers on a Yutong bus on that stretch of the road.
They took away money and mobile phones at gun-point. Regional Police Commander, ACP Bright Oduro confirmed the robbery incident.
Deputy Education Minister, Mahama Ayariga who uses that road frequently is deeply worried about the development and wants something done about the road as soon as possible.
He told Joy News' Dzifa Bampoh that the Minister for Roads and Highways has given him the assurance that the road would be turned into a first class road under the Eastern Corridor Road Project.
However, he thinks temporary measures should be put in place to alleviate the plight of those who ply that route.
He stated that the poor nature of the road has slowed vehicular movement on the road, thus making it convenient for robbers to operate there.