Christian-Muslim clashes in Nigeria kill at least 12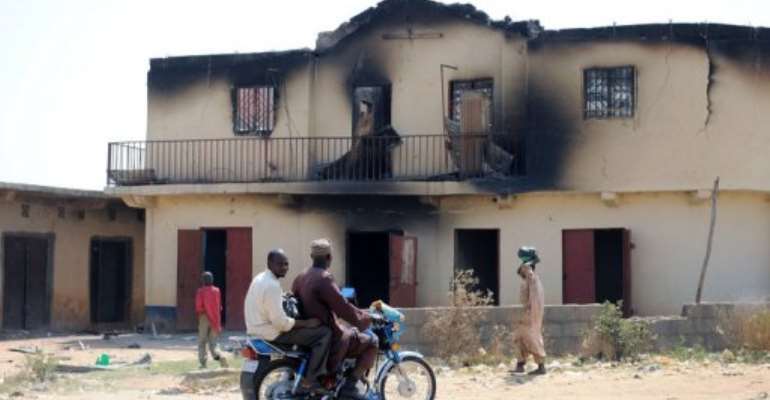 JOS, Nigeria (AFP) - Clashes between Muslim and Christian ethnic groups in central Nigeria have killed at least 12 people and left "enormous" destruction, including houses burned, officials said on Thursday.
Captain Charles Ekeocha said the army had imposed a 24-hour curfew on the Barkin Ladi area of Plateau state after the clashes, the latest in a series of violent incidents between the two communities.
"Lives have been lost, houses have been burned," said Ekeocha, spokesman for a military task force assigned to the area, adding that "the loss is enormous."
A spokesman for Platea state governor Jonah Jang later put the death toll at 12 from the clashes that began on Wednesday night and continued into Thursday.
"You can say 12 people were killed," Ayuba Pam told reporters.
The clashes were believed to have subsided at around 1:00 am, but youths in the area later came out to block roads, raising fresh tensions. Security officers were deployed to the area.
A resident who did not want to be named said churches and an Islamic school were also burned.
The state information commissioner, Abraham Yiljap, said more than 60 people had been arrested in connection with the violence. He said the situation was now under control.
The clashes appeared to result from reprisals carried out over killings that had occurred several days ago.
Plateau state lies in the so-called middle belt region between the mainly Muslim north and predominately Christian south of Africa's most populous nation.
The area has been caught in a deadly cycle of attacks and reprisals that have regularly flared up for years.
Beroms and other mainly Christian ethnic groups are viewed as the indigenes in the area, while Hausa-Fulani Muslims are seen as the more recent "settlers" despite the fact that many have been there for decades.
Policies that favour indigenous groups when it comes to such issues as patronage and jobs have created animosity.
In turn, Beroms fear that Hausas -- a much larger ethnic group throughout Nigeria as a whole -- will eventually be allowed to dominate an area they see as their own.
Separately in the countryside, clashes over land have occurred between Berom farmers and Fulani herdsmen.
Thousands have been killed in the unrest in recent years. Dozens died in violence including bomb blasts on Christmas Eve 2010 and the days that followed.
Many say the crisis has been fueled by politicians in a local struggle for political and economic gain, but religious sentiments are increasingly being stirred as well.
Rights activists have petitioned the International Criminal Court over the crisis, arguing that the government is either incapable or unwilling to prosecute those responsible.
The court's prosecutor has confirmed he was looking into an issue in Nigeria, and local rights activists say they have been informed it involves the violence in the centre of the country.