DR Congo scrambles to get ready for polls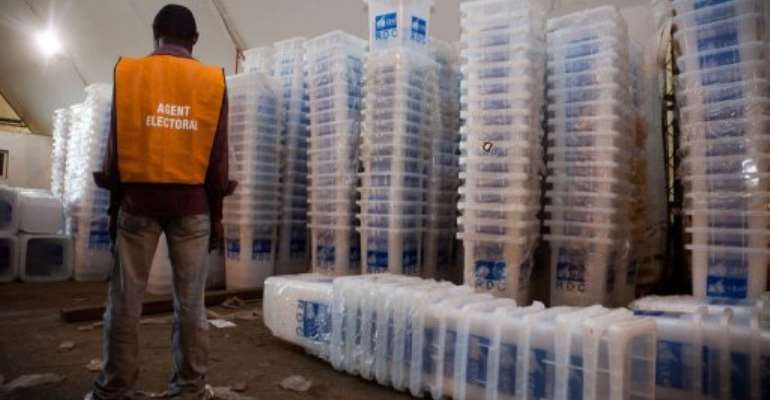 KINSHASA (AFP) - Four days from elections that some analysts doubt it can pull off on time, the DR Congo was rushing Thursday to overcome the challenges of crumbling infrastructure and a territory two-thirds the size of western Europe.
Monday's presidential and parliamentary polls are only the Democratic Republic of Congo's second since back-to-back wars from 1996 to 2003, and the scars from those conflicts -- together with the country's massive size -- mean election officials face a raft of logistical headaches.
The election commission has set itself a Friday deadline to deliver 186,000 ballot boxes and more than 64 million ballot papers to nearly 64,000 polling stations, in a country of 2,345,000 square kilometres (906,000 square miles) -- 77 times the size of former colonial ruler Belgium.
Commission chief Daniel Ngoy Mulunda said he is confident his team can make the deadline, with the help of 80 aircraft hired from private companies as well as the combined support of the United Nations, South Africa and Angola.
"The objective is to reach 100 percent of the voting sites by November 25 at the latest. We think that with the combination of different means of transport and all the systems we've put in place, we'll make that deadline," Mulunda told journalists Wednesday.
But as recently as 10 days ago, Mulunda's top deputy said organisers could need more time.
"If we're not ready, we'll ask for a few days and hold the elections on December 2 or 5," said Jacques Djoli, vice president of the National Independent Election Commission (CENI).
The sheer size of the task is daunting.
The DRC has 32,024,640 registered voters, up from 25 million at the last polls, in 2006. CENI has responded by expanding the number of voting stations to 63,865, up from some 55,000 in 2006.
The number of candidates is also a record: 18,835 contesting 500 seats in the national assembly, up from about 9,600.
In Kinshasa alone, there are 5,491 candidates for 51 seats. One of the capital's four constituencies has a 56-page ballot.
There are 11 presidential contenders, down from 33 in 2006.
In a bit of good news, Mulunda announced Wednesday that all the ballot papers had arrived from South Africa, where they were printed.
But in a country with a crumbling and limited road network, getting them to polling stations is a challenge -- not to mention the ballot boxes themselves, which were made in China and, at one metre (yard) tall, resemble giant trash bins.
The budget for the entire election cycle -- single-round presidential and national assembly votes Monday, plus local, provincial and senate elections in 2013 -- keeps growing, and currently stands at $1.1 billion (823 million euros).
Amid the logistical chaos, the CENI has faced accusations of fraud.
A leaked report by Belgian company Zetes, contracted by the government to issue biometric voter cards, said there were hundreds of thousands of "ghost voters" on the register, mainly in strongholds of incumbent president Joseph Kabila.
The Union for Democracy and Social Progress (UDPS) -- the party of Etienne Tshisekedi, Kabila's top rival for the presidency -- also accused the CENI Wednesday of creating "fictitious" polling stations.
"There has been a systematic fraud organised in massive fashion," UDPS secretary general Jacquemin Shabani told journalists, saying more than half the stations don't exist.
The CENI denied the allegation.
"When there's a polling station that's in the wrong place on the map, it's not an attempt to cheat," said Mulunda.