PRESIDENT ATTA MILLS DODGES GHANAIANS IN TORONTO?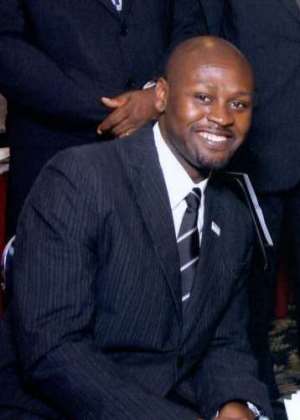 PIX: PRINCE OFOSU SEFA, SECRETARY, NPP TORONTO CHAPTER.
Voluntary response received from most Ghanaians resident in Toronto shows how they were pissed off because the president visited Canada and decided not to hold an event in Toronto during his trip as he stayed in Ottawa throughout the trip.
Many of those who have passed commentary about the president's visit to Canada over the weekend, have wondered why he paid the visit without holding an event in Toronto where out of 80,000 Ghanaians living in the Ontario Province, 50,000 are living in the Greater Toronto Area[GTA]alone.
Among those who passed their comments about the president's visit to Ottawa-Canada to this reporter was Mr. John Anati, vice president of Ghanaian Canadian Association of Ontario [GCAO], Mr. Eric Agyeman, board member of Algonquin College, Prince Ofosu Sefa, NPP Secretary of Toronto Chapter as well as other members in the area.
Mr. John Anati, on behalf of the association right before addressing the president at the town hall meeting in Ottawa expressed how disappointed Ghanaians in Toronto were as the head of state never considered coming down to meet with them and also provide answers to many questions bothering them about issues concerning governing the state.
"If you look at how the questions were being fired you could see that there is no strong link between the high commission and the people in finding answers to problems they are facing" an observation made by Mr. Eric Agyeman of Algonquin College.
He posited that is time appointment to head the high commissions are done not by looking for people holding PhDs, Professors or of people with so many degrees but rather very energetic persons who can create a strong communication between the people and the government they represent.
According to Prince Ofosu Sefa, Secretary of Toronto NPP chapter, it was interesting that the president did not hold an event in Toronto during his trip.
He found the president quite likable, approachable and serene adding," he seems to use this style sprinkled with frequent references to God/the Christian faith to charm the audience. However, he is a boring and uninspiring speaker. He does not command the room".
Other residents whom this reporter collected their views about the president's visit commented that from what he said it seems he came to tell them what they knew of already as problems existing and not how his government is finding solutions to those problems.
Really, many were those who conducted research and drafted their grilling questions to face the president should he had interacted with Ghanaians resident in Greater Toronto Area [GTA] during his visit.
Some of the questions the president would have attempted to answer were why not rebuking his insulting ministers, the influx of Fulani herdsmen into the country posing security threats to the ordinary people, persistent strikes by doctors, nurses, teachers and other civil servants without government finding solutions to them and many more.